Weber Barbecues & Accessories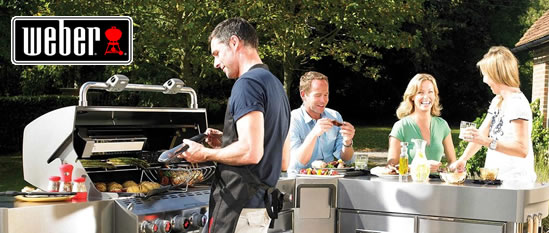 Weber Gas BBQs
The Weber Gas barbecue range makes it easy to prepare and cook delicious food outdoors, so much so, you,ll never want to cook indoors again. Choose from Weber's huge range of gas barbecues including the entry level two burner Spirit BBQs through to the colossal 6 burner Summit grills. The options are limitless!
Weber Charcoal BBQs
The Weber charcoal barbecue family if so varied that there is a barbecue to suit everyone whatever the occasion. The diverse range includes the cute and portable Smokey Joe, the standard One Touch Original & Premium kettle grills as well larger specialist models & Smokers. A charcoal grill for everyone!
Weber Q Range
The Weber Q barbecue range was designed to have you barbecuing everyday. Stylish and compact the Weber Q BBQ range is perfect for camping and picnics, weekends away and everyday family use. Once you start using one of these grills we can assure you it'll be difficult to stop!
Weber BBQ Accessories
Why not enhance your grilling experience with a choice of Weber's practical and innovative barbecue accessories? From the usual spatulas and tongs to the sublime poultry roasters and grilling gear, Weber offers a wealth of accessories certain to have you barbecuing like a pro!