Smoke n Grill - Brinkmann Charcoal Smoker and Grill - Black
Product Code : 810/5301/C Barcode : 0039953300189
Our Best Selling Smoker!
The Brinkmann Smoke 'n' Grill offers a simple tried and tested way to cook an array of top quality delicacies. From pulled pork to roast chicken, from barbecue ribs to smoked salmon, the only limit is your imagination!

The smoker uses an innovative method of trapping the heat and smoke inside the barrel to cook your food with an amazing smoky flavour that you just can't get with other products. It houses two chrome-plated cooking griddles which can hold up to 50lbs in weight. An internal temperature gauge is also included on the lid so that you can track the heat without having to remove the top.

You only have to read the reviews from previous customers about this product to realise just how amazing it really is, and after using it once, we're certain you'll love it too.

12 month manufacturer's warranty included.
Delivery Options
- Available at Checkout
Free Delivery
1 - 3 Working Days
Special Offers
Cover
Brinkmann Smoker Cover

£12.99 Garden4Less:

£11.99

£11.49

OUT OF STOCK

View Product
Product Description

Two 40cm chrome-plated grills


Converts easily to a charcoal grill


Separate base pan design for easy set-up


Heat indicator


Wooden handles


Front hinged chrome door


Porcelain-coated water pan


Aluminized steel charcoal pan


Innovative Design
If you're a fan of Al-Fresco cooking and dining, you're missing out if you don't own a Brinkmann Smoke and Grill. This fantastic outdoor oven packs in heat and humidity to cook your barbecue meat to perfection. With the smoke and grill you'll be able to enjoy tender cuts of juicy meat over and over again.
The stacked style of the Brinkmann offers the user easy access to the charcoal pan at the bottom, simply by lifting the smoker off the base. The cooker can be used either a smoker or charcoal grill depending on what you fancy. It comes complete with two chrome-plated cooking grills which can hold a whopping 50lbs in weight, so you will rarely be short on cooking space.
The smoker features an internal heat indicator mounted onto the lid of the unit to allow you to check the temperatures without having to open the lid - if you're looking, you aren't cooking! An opening steel door also makes for a simple way to add extra water or coals when needed.
Dimensions:
43cm x 49cm x 81cm
Smoking Tips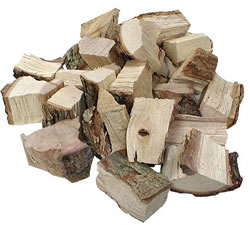 Many users question what kind of wood is best for smoking. In fact, there are a number of different types of wood will work like a charm when used to smoke your meats. Some of the best kinds are oak, hickory and mesquite. Try to experiment to find your favourite flavours. Woods obtained from fruit or nut trees can produce some immense flavours. Wood which is obtained from resinous trees, such as pine, is not recommended as this will produce an unpleasant taste.
You can also try soaking your wood in different things. It is recommended that chips are soaked in water to stop them flaming, as this can produce unwanted extra heat. However, you can also soak them in cider, which will add to the flavours of the smoke released. Whatever you choose to soak them in, just be sure to shake off excess liquid to ensure the coals don't go cold.
The sizes of wood should be three or four inches long and around an inch thick. Three or four chunks at a time is enough to produce a great smoky flavour. Some people prefer smaller chips with larger amounts, but these may need replacing more frequently. As mentioned, it's all about experimenting to figure out what works for you!
Instruction Manual
Lost your manual? Download a
digital copy here!
Check out our
advanced model
which also functions as a portable barbecue!
This page belongs to:
Smoke n Grill - Brinkmann Charcoal Smoker and Grill - Black