Rectangular Furniture Set Cover (8 Seater Set) - Bosmere C535
Product Code : C535 Barcode : 5013554035355
High Quality Polyester Fabric Cover
Dimensions:

Height: 90cm (36")
Length: 295cm (116")
Width: 203cm (80")

PVC Free
Brass eyelets, ties and cord locks
UV resistance for sun protection
Double stitched for increased seam strength
Unique Bosmere weatherproof coating for exceptional protection all year round
Wipe-clean surfaces for easy upkeep
6 year manufacturer's guarantee
Delivery Options
- Available at Checkout
Estimated delivery
Free Delivery
1 - 3 Working Days
Special Offers
Water Shedding Pole
Bosmere Table Top Water Shedding Pole

£13.49 Garden4Less:

£8.99

£7.99

OUT OF STOCK

View Product

Bosmere Tall Water Shedding Pole

£16.49 Garden4Less:

£9.99

£8.99

ADD

View Product
Product Description
The C535 garden furniture cover from Bosmere is designed for rectangular dining sets with 8 seats. Its elongated octagon shape allows it to fit over the table, with chairs in situ, to provide comprehensive protection from the elements. Made from a PVC-free polyester material, this cover has double stitched seams which add strength and the top sewn seams have waterproof joints. This cover makes use of Bosmere's unique weatherproof coating for excellent all-year-long protection. It is UV stabilised for protection from the sun's rays and has brass eyelets, ties and cordlocks which allow it to be firmly secured to the furniture set, meaning it won't blow away in heavier winds.

Features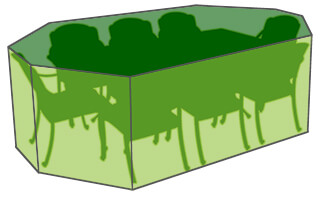 High Quality Polyester Fabric Cover
PVC Free
Brass eyelets, ties and cord locks
UV resistance for sun protection
Double stitched for increased seam strength
Unique Bosmere weatherproof coating for exceptional protection all year round
Wipe-clean surfaces for easy upkeep
6 year manufacturer's guarantee
Water Shedding Pole
We recommend combining this cover with a Bosmere Water Shedding Pole for best results. The benefit of using a water shedding pole, whether it be floor or tabletop, is to raise the cover in a way that will allow water to roll off, rather than collecting and pooling on top of the cover. By using a water shedding pole, the risk of deterioration of the cover over time is decreased significantly and you can rest assured that your garden furniture is safe and well protected.

Additional Information
Dimensions:
Height 90cm (36") x Length 295cm (116") x Width 203cm (80")

This cover comes with a 6 year manufacturer's warranty

Product Reviews
Rectangular Furniture Set Cover (8 Seater Set) - Bosmere C535
Overall rating 93.5% from 40 reviews