Nutley's Kitchen Gardens
About
Nutley's Kitchen Gardens began in 2003 by grow-your-own enthusiast Jo Nutley, with only a shady suburban garden to play with and a mission to reduce her dependence on the supermarket for the family's food. Despite great successes and some spectacular failures, she quickly learned the satisfaction, pleasure and cost-effectiveness of producing your own food.

In this evangelical frame of mind, she began buying in some wholesale vegetable seeds to spread the word to others. Labelling them and packing them by hand, it was an immediate if laborious success - it seemed there were far more grow-your-owners out there than she had realised.

Since then Nutley's has grown rapidly, and evolved into a flourishing online shop and community dedicated especially for the kitchen gardener - both novice and old-hand. Nutley's has built up relationships with a wide range of Britain's best gardening and cookware suppliers, selecting only those items from their ranges which would suit the kitchen gardener, and working hard to get them at the best possible price.

This community of savvy kitchen gardeners has flourished too, and is kept up-to-date with free guides, discounts and money-saving tips via our regular Kitchen Garden newsletter.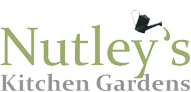 Business Name:
Nutley's Kitchen Gardens
Business Type:
Retailer
Vat Number:
GB984602202
Buisness address:
Unit 3, Hazelwood Trading Estate
Dominion Way
Worthing
West Sussex
BN14 8LU