Filter Results By
Hozelock Aquapod Automatic Watering Kits
Hozelock Aqua Pod

Hozelock's innovative new AquaPod - a fully integrated automatic drip watering system for pots and containers.

Eliminating the set-up complexity, the AquaPod requires no assembly, no intricate pipe cutting, no hole punching, no dripper fitting and no bulky and unsightly supply hose. The entire system can be set up by anyone in less than five minutes and can be quickly extended to water extra pots or completely repositioned in just two minutes.

An Aqua Pod system comprises one or more pods, which effortlessly waters up to five pots or containers per pod. Each pod holds five separate 1 metre lengths of 4mm micro hose which, once connected to an outside tap or water timer using the unobtrusive 4mm supply hose, can be independently pulled out from the pod to the target plant container. Each of the five micro hoses terminates in a pre-fitted 4 litres-per-hour (lph) pressure-compensating and self-cleaning dripper which is fixed securely in the growing medium using the supplied heavy-duty plastic stakes.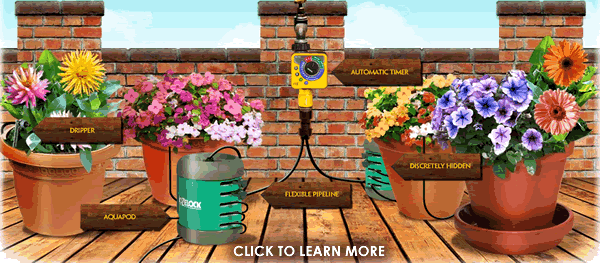 Stage 1
Connect the pressure reducer to the tap. The use of a timer is optional and comes with the Auto Aqua Pod 10
Stage 2
Simply connect the Aqua Pod to the 4mm supply hose and position the Aqua Pod in a discrete position.
Stage 3
Pull each of the 5 separate 1m lengths of micro hose from the Aqua Pod to a plant that requires watering.
Stage 4
Secure each of the self cleaning 4 litres per hour drippers using the heavy duty stakes. 
Finished
Once the system is finished you can sit back and enjoy the pleasure of your garden without the worry of watering.
Every pod has five drippers, each dripper can be pulled out of the pod, rewound back into the pod and turned and off independently of the other four drippers.

The range comprises three complete systems. The Auto AquaPod 10 is a fully automated system and includes two pods (for watering 10 container plants) and an AC1+ electronic tap timer. The AquaPod 5 and AquaPod 10 are manual kits with one and two pods respectively, i.e. for watering five or 10 container plants.

All three kits include the appropriate pressure regulator fitting, 4mm push-fit supply pipe and a planting stake for each dripper. An electronic timer can be retro-fitted to either of the manual kits to convert them to automatic operation.

Also available are two expansion kits. The PlusPod kit adds up to five more container plants to an existing system and contains an additional Aquapod and five stakes. The PlusKit hanging basket and hedge kit extends an AquaPod system to reach up to five hanging baskets or water a 5 metre length of hedge. It comprises five 4lph pressure compensating drippers, 10 metres of 4mm hose, five stakes and all necessary fittings.