Hozelock Micro Irrigation Strip Microjet - 2796
Product Code : 2796-2726 Barcode : 5010646040594
Strip microject produces narrow elongated spray pattern (pack of 6)

Delivery Options
- Available at Checkout
Estimated delivery
£2.75
1 - 3 Working Days
Product Description
Hozelocks Strip microject produces narrow elongated spray pattern (pack of 6).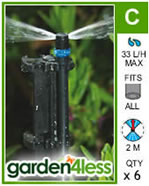 Suitable for


Borders


Vegatable gardens

Microjets can be inserted directly into the supply tube or can be attached to a high spike to raise the microjet by 35cm.

The action shot shows the microjet attached to a high spike which is not included in this pack.
Product Reviews
Hozelock Micro Irrigation Strip Microjet - 2796
Overall rating 83.3% from 6 reviews