Hozelock UltraMax Robust Multi Pro Spray Gun
Product Code : 2698 Barcode : 5010646058506
Black Friday Event!
Robust metal body with plastic trimmings
Die cast metal body for ultimate strength and durability
Lockable on/off trigger with separate flow control
Seven spray patterns
Universal male hose end connector is compatible with all Hozelock fittings
5 year manufacturers guarantee

Delivery Options
- Available at Checkout
Estimated delivery
Free Delivery
1 - 3 Working Days
£3.25
Delivery Monday, 17 December
Order before 16:00 Monday!
£3.25
Specified Delivery Date
Product Description
The new Hozelock Multi Spray Ultramax is among the most durable and robust watering accessories in the world.

The solid zinc alloy body is designed to withstand the most rugged of environments and is guaranteed for 5 years.
There are seven spray patterns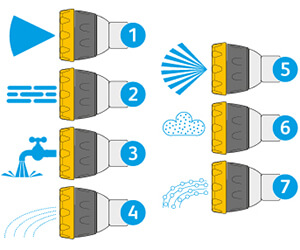 Cone spray for delicate watering
Powerful Jet for cleaning
Fast fill for filling up buckets and watering cans
High definition metal rose for gentle watering
Fan spray for rinsing soap off cars
Fine Mist for seedlings
Aerated
New And Improved Trigger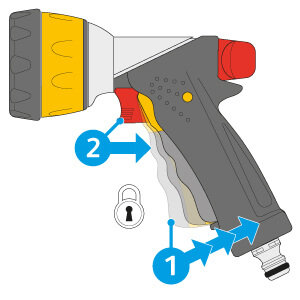 Lockable
If you're watering for a prolonged time the trigger can be locked in position to reduce any strain on the hand.

Soft Touch
Fitting neatly in the hand, the gun is extremely comfortable to use thanks to the soft touch trigger.
Flow control
The rear flow control with variable flow from 50% to 100% gives the user complete control over the water spray

Product Reviews
Hozelock UltraMax Robust Multi Pro Spray Gun
Overall rating 100% from 12 reviews
This page belongs to:
Hozelock UltraMax Robust Multi Pro Spray Gun