La Hacienda Kamado Large Barcecue with Side Shelves and Heat Deflector
Product Code : 680268 Barcode : 5055025680268
The Kamado L from La Hacienda is a bench mark in barbecuing, with great features that allow for perfectly cooked food every time. The Kamado's unique design makes it the perfect barbecue to grill, sear and smoke. Unlike traditional barbecues the Kamado barbecue keeps heat in, the insulated body means less fuel but MORE heat.

Dimensions: Width 117cm x Height 122cm x Depth 70cm


Delivery Options
- Available at Checkout
Estimated delivery
Free Delivery
1 - 3 Working Days
Product Description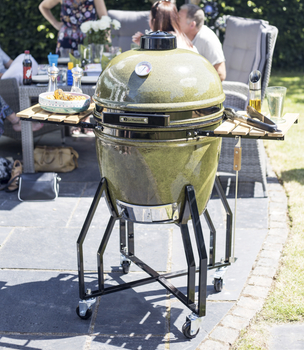 Ceramic body locks in heat
Use less fuel when you barbecue
Locking castor wheels allow easy movement when needed
Fold out side tables included
Available in three sizes
Free delivery available
Benchmark in barbecuing!
The Kamado Outdoor Oven by La Hacienda is a ceramic combined oven and smoker that comes with large easy lift handles. Available in a stylish green finish, the kamado comes complete with foldable side tables, to complement the stand and lockable castors.
The Kamado L from La Hacienda is a bench mark in barbecueing, with great features that allow for perfectly cooked food every time. The Kamado's unique design makes it the perfect barbecue to grill, sear and smoke. Unlike traditional barbecues the Kamado barbecue keeps heat in, the insulated body means less fuel but MORE heat.
A key advantage of the Kamado's ceramic vessel is its ability to insulate. Not only does this require less total heat for cooking, it also lets you cook at significantly higher temperatures, or at very low temperatures, for a significantly longer time. Combine this with the ability to not only control, but fine-tune the temperature, and you get a grill that is extremely versatile.
Keep the heat in the grill and the moisture in the meat!
The well-insulated ceramic body of a Kamado keeps the heat in the grill. The unique circular shape of the vessel also circulates the heat for more uniform and effective cooking. Compare this with gas grills, which let heat escape and cook largely from below. This means they need a larger fire and more total heat to achieve the same temperature profile as a Kamado grill.
Dimensions: Width
117cm x
Height
122cm x
Depth
70cm