Maui 6 Seater Fire Pit Corner Furniture Set from LIFE Camel/Carbon
Product Code : MAUI/FP/CC
A wonderful modular unit which is a combination of large comfortable seating and fire pit table, excellent for creating warmth and ambience. Relax, entertain and enjoy with effortless ease. No cushions to be put away with our deep seating ALL WEATHER cushions. Use as and when you wish and as much as possible.

Corner Sofa Dimensions: 2.6m x 2.6m

Please Note:- This furniture set comes with the Maui Fire Pit table pictured separately and not the high dining table pictured with the furniture set.
Delivery Options
- Available at Checkout
Estimated delivery
Free Delivery
1 - 3 Working Days
Product Description
Fully weatherproof set
Cushions removable and washable
Strong yet lightweight
Micro-porous quick drying design
Aluminium framing
Free delivery available
Built To Last
This Maui outdoor lounge from LIFE comes in Light Brown and is made from high quality premium half moon resin weave which is woven onto a strong aluminium frame, producing a comfortable, yet lightweight stylish garden furniture.
The ALL WEATHER cushions are designed to stay outside, so no need to worry about bringing them in. They have been scientifically tested, with rain passing straight through the cushion. This allows them to dry extremely quick, compared to conventional cushions.
The Maui features a large five seater sofa with All Weather cushions, chunky armchair and a fire pit table with ideal for creating perfect atmosphere.The attention to detail makes this combination as pleasing visually as it is to sit and relax on.
All Weather Cushions
The unique ALL Weather cushions are scientifically designed to maintain outdoors the whole year round, in All Weather conditions. Weather Resistant, perfect comfort, colour proof and UV resistant. The fabric is extra strong for long durability. The fillings are been carefully selected to give the perfect depth and density and therefore perfect comfort, not too hard and not too soft.

LIFE cushions are designed to stay outside all year come rain, sleet or snow no matter what the weather conditions may be. The fabrics used, which are a high quality woven textilene material and the inner filling has been designed to be more micro porous. The result is a hard wearing, fade proof cushion.

LIFE cushions are not waterproof they are weatherproof. New technology created allows water to pass through LIFE cushions without any water retention, which in turn means no mildew build up that could eventually cause your cushions to rot. This unique technology and lack of water retention is also a major factor in the cushions ability to retain its original shape.

All LIFE cushions are zipped to make cleaning even easier, they can be handwashed up to 30oC. Washing will not affect the ALL WEATHER properties of the LIFE cushions (unlike many other waterproof cushions available).
Sturdy Frame Design
Each of the frames are made from aluminium which has good corrosion resistance and is a lightweight material with a great mechanical stiffness. The frames are then plaited with our own produced synthetic weave which is durable and extremely hard wearing to cope with severe atmospheric temperature changes as well as being UV stabilised to avoid fading.



More Information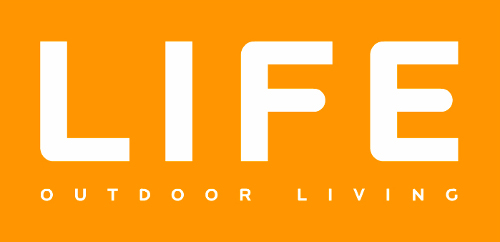 LIFE is a combination of market leading engineering, luxury and originality. Inspiring and practical.

Research development and forward thinking have brought this product to market. Designed by passionate technical engineers with a thirst for creativity, quality and clear innovation.

Absolutely no compromise on quality - from the materials used the build and finish.