Bosch Cordless Mower - Rotak 37li Ergoflex + free extra blade
Product Code : 06008A4473 Barcode : 3165140816687
+ Free Extra Blade
Tired of having to constantly having to dodge the cable when mowing your lawn? The Bosch Rotak 37 li cuts the cord on lawnmowers - literally!

No more reeling out extensions or tripping over wires. With the Rotak, mowing the lawn has never been easier. Just set your cutting height, squeeze the trigger and you're good to go.

2 year manufacturer's warranty included.

Product Description
The new "Ergoflex System" enables easier steering and a better body posture.
Very light with integrated handles for convenient carrying.
Mow right up to the edge of walls, flower beds and lawns thanks to the grass combs.
Ergonomically designed with adjustable handles
Improve body posture and reduce muscle strain whilst mowing
"Powerdrive+" motor ensures a reliable cut, even under difficult circumstances
Charge time 140 mins (80% in 70 mins)
Lightweight for easy manoeuvrability
Rear roller for striped finish and to prevent scalping
Fold-down handles for compact storage
6 cutting positions with central adjustment
Complete peace of mind with a '2 Year Manufacturer's Warranty'.
New single lever height of cut adjustment
Professional Quality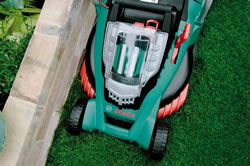 The mower blade measures 37cm, allowing for a precise cut. This is backed up by an innovative 'powerdrive+ motor' meaning the Rotak has no issues slicing through the grass whether it be wet dry, long or short.
It also boasts a set of 'grass combs' which are situated either side of the main rotating blade. The combs enable you get a perfect finish right up to the edges of your lawn. As well as this, a rear roller on the back of the Rotak 37 li leaves the remaining cut grass with a smooth 'striped' finish, leaving that amazing 'football pitch effect'.
Cordless Design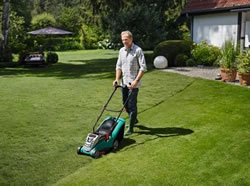 One of the many key features of the Rotak 37 li is having the freedom to use the mower without the need for extention leads, or any leads at all for that matter. Cables are no longer a risk to you or your flowerbeds. The 36 volt lithium-ion battery, which comes included, enables the mower to run for up to thirty minutes on a full charge. A charge level indicator is also included with the model, so there will be no nasty surprises halfway through a job.
The battery can be expected to run for 500 to 700 charge cycles, averaging five to ten years of regular usage. A complete charge from flat to full takes only one hour to complete, or you can quick charge 80% in 30 minutes, allowing you to give your lawn a pristine finish in no time.
Adjustable Cut Settings
Understandably, many customers have different preferences on how they like their lawns. With that in mind, the mower comes equipped with an adjustable blade, offering six different height settings for a clean cut between 20mm and 70mm long.
Ergo-flex Technology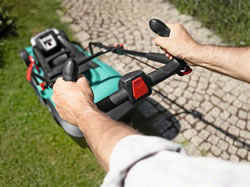 The Rotak lawnmowers' user design is the first to receive ergonomic certification. The visionary handles were dreamt up by Bosch based on computer console handsets. This allows the Rotak to offer eight different grip positions which can be adjusted to help relieve muscle strain when in use. This also means that you can alter the positioning to have the optimum level of force and control over the mower.
Made with you in mind, the handles can be operated one or two-handed, always being able to turn left, right or simply run straight with ease. They can also be folded down when not in use for compact storage.
40 Litre Grass Collection Box
Minimalise the number of times spent walking back and fourth to empty grass cuttings with the Rotak's 40 litre grass collection box.
Contents:
1x Bosch Rotak 37li Ergoflex lawnmower
1x 40 litre grass box
1x Instructions
1x 1 battery + Charger
User Manual
Lost your user manual? Download a digital copy here.


Technical Details
Battery Power
36 V / 4.0 Ah
Battery type
Lithium-ion
Cutting width
37 cm
Cutting system
Rotary hardened and sharpened steel blade
Cutting Depth
20-70mm
Cutting height adjustment
6 positions with central adjustment
Grass-box capacity
40 litres
Weight
13.2 kg
Type of handles
"Ergoflex System"
Bosch power drive +
Efficient energy management
Grass combs
Extended grass combs
Leaf collect blades
Integrated carry handle
Charge level indicator
The Bosch Brand
Ever since being founded in the 1800s, Bosch has been a leader in the tools trade with its innovative product designs. Every step made by the market giant has been one in the right direction, with each new design being better than the last. Two generations on, the resulting tools, whether they are lawnmowers or hedge-trimmers, are at the pinnacle of the trade industry and readily available to everybody with a job to be done.
Known for placing the customer at the forefront of every design, Bosch produces tools that are durable, affordable and easy to use and maintain. With a Bosch tool, gardening is no longer a chore, it becomes a hobby, and with the wealth of available products at your fingertips, there is nothing that is unachievable.
Ask a garden4less expert about which tool is best suited to your needs today.
Warranty Information
The Bosch Warranty Period
Bosch now provide an Extended 3 Year Warranty on their garden tools, when registered at www.MyBosh-Tools.com within 28 days of purchase. Any unregeistered garden tool keeps its limited 2 year warranty.

Both warranty periods only apply to tools that are being used for domestic purposes and excludes batteries and chargers, which come with a 12 month warranty. During the warranty period the collection and return of your tool will be free of charge.
How To Claim
Bosch require proof of purchase for the product in order to make a warranty claim, the original invoice sent out with the goods will be sufficient for this. If this has been misplaced then we will happily provide a copy via email.

In order to make a claim under this guarantee you are required to either:
Use the repair collection service tool provided by submitting an online colleaction request on Bosch's Repair Service Page.

or

Submit in writing to bosch.servicecentre@uk.bosch.com the defect with the product, together with proof of purchase.

or

Phone the Bosch after sales service on 03447 360109 who will be happy to arrange and explain the warranty claim process.
Bosch's 5 Day Service Commitment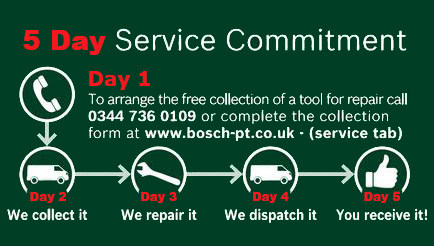 Bosch know how much of an inconvenience it is if your machine breaks down, so they commit to getting your machine back to you in 5 days.

Day 1: Collection gets arranged
Day 2: Picked up from you
Day 3: The unit is repaired
Day 4: Dispatched back to you
Day 5: You receive it back!

Full Warranty Details
The most up to date warranty information and full conditions can be found on Bosch's garden tools warranty page.
We're always happy to help
Don't forget that garden4less are always here to help, so please contact us if you have any difficulties with the warranty process with one of our orders.
Product Reviews
Bosch Cordless Mower - Rotak 37li Ergoflex + free extra blade
Overall rating 95% from 20 reviews