Campingaz Powerbox Plus 36L 12V Cool Box
Product Code : 2000030258 Barcode : 3138522087111
Now HALF PRICE for a limited time only!
Improved PU insulation for more insulation AND more space!
Capacity: 36L
Fits 10 x 1.5L bottles
Firmly locking lid
Noise reduced fan
Insulation performance: 22ºC below ambient temperature
Weight: 5.2kg
Dimensions

Height: 41cm
Width: 55cm
Depth: 35cm
Delivery Options
- Available at Checkout
Estimated delivery
Free Delivery
2-7 Working Days
Product Description
The Campingaz Powerbox Plus 36L electric cooler is packed with 30% more premium insulation than its predecessor. When plugged into electricity via a transformer, Powerbox® Plus 36L keep content 22 degrees below the ambient temperature. The improved and very quiet fan emits a maximum of 39 dB, that won't wake you up at night

The power cord and plug can also be easily removed and conveniently stored inside the cooler during non-use. Cooler Powerbox® Plus 36L has an antimicrobial lining that comes from a chemical additive injected into the plastic within the liner. With a new and modern shape built from strong and thick polypropylene, this cooler stays cool for hours even when unplugged.

Dimensions:
Height 41cm x Width 55cm x Depth 35cm
Thick, Premium PU Insulation

Tests show that cooling loss is 30% through the top and 30% through the base.

New models feature increased insulation in the lid (Icetime Plus Extreme & Powerbox Plus) and base, and reduced insulation on the sides, resulting in smaller exterior dimensions yet retaining interior capacity and performance.

We uses polyurethane, the highest quality insulation material available on the market - utilising up to 30% more insulation.
Antimicrobial Liner - Resists Odor, Mould and Mildew

Antimicrobial effect is obtained from an additive which is melted down into the plastic before it's moulded into the liner. This means the antimicrobial layer is "there for life" and cannot be scratched off or weaken over time.

It resists mould and mildew growth and blocks unpleasant odours from developing
Locked and Sealed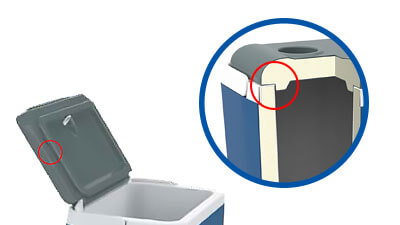 The cooler is designed with a lip on the lid, which locks perfectly into the case for a secure seal. Our click and lock system emits a reassuring "click" when you shut the lid, so you know the cooler is firmly sealed!
Hinged Lid With A Wide Opening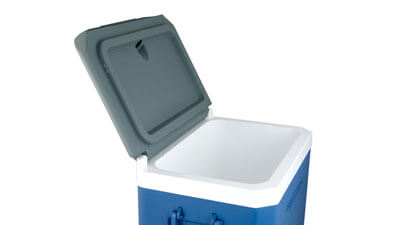 Hinged lids fit snuggly into the case, while the bail-style handle snaps perfectly behind, making the cooler compact for easy transportation. Cooler opens wide at the top, to make filling quick and easy.

The lid is also designed at the perfect angle, so the cooler won't fall backwards whether it's empty or full.
Sorry no full description is available for this product.
Product Reviews
Campingaz Powerbox Plus 36L 12V Cool Box
Overall rating 80% from 5 reviews