Beehive Water Butt Terracina - 150 Ltr With Stand and Diverter Kit
Product Code : 1229/KIT Barcode : 5012859012290
Includes Tap, Stand and Diverter!
If you're looking for a water butt that looks stunning as well as doing its job, this is the product for you. The butt is plastic with a terracotta finish, making it strong and light while also adding a beautiful feature for your garden or patio.

The water butt comes complete with a fitted lid, minimising the number of bugs that find their way inside. A tap is installed near the bottom of the butt for easy dispensing and emptying when needed.

Dimensions :
Height :80cm Diameter: 60cm (at widest point)
Capacity 150 litre

Please note: The diverter kit supplied is only suitable for round downpipes
Delivery Options
- Available at Checkout
Estimated delivery
Free Delivery
2 - 5 Working Days
£5
Delivery Wednesday, 15 April
Order before 16:00 Tuesday!
£5
Specified Delivery Date
Product Description
150 litre capacity
Complete with lid and twist-flow tap
Lightweight and weather resistant
Free delivery available
Functional Feature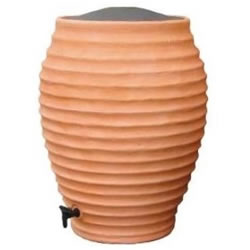 The Beehive waterbutts are not only perfect for collecting and storing rainwater, but are an attractive feature in any garden. They are designed to replicate the look of ceramic.

The product comes with a built in water tap and secure lid to minimise the amount of bugs and bacteria that gets inside. The terracotta design ensures that the water butt has been made to a very high quality that will last for years.

The water butts are designed to take full advantage of nature's bounty - harvesting clean, clear, safe rainwater, usable for irrigating the most delicate of plants.

Dimensions:
Height 80cm x Diameter 60cm (at widest point)

Capacity: 150 litre

Product Reviews
Beehive Water Butt Terracina - 150 Ltr With Stand and Diverter Kit
Overall rating 93.5% from 34 reviews