Colorado Black Extra Large Steel Chiminea by La Hacienda
Product Code : 56088B Barcode : 5055025560881
Steel Design Resistant To Cracking!
This contemporary chiminea is made from heavy gauge steel making it sturdy and robust. The metal design makes it ideal for burning wood. The contrasting chrome top section against the body's black finish adds a touch of elegance and style.

This whole model has been coated in high temperature paint which looks great whilst also protecting it from weathering.

Dimensions: Height 160cm x Diameter 60cm

Delivery Options
- Available at Checkout
Estimated delivery
Free Delivery
2-7 Working Days
£5
Delivery Tuesday, 31 May
Order before 13:00 Monday!
£5
Specified Delivery Date
Also Available From
Product Description
Strong yet lightweight steel design
Heat resistant black finish
Fuel grill included
Free delivery available
Modern and Contemporary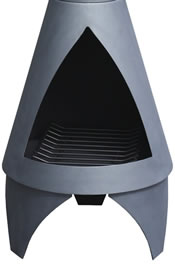 If you're wanting a stylish new garden feature or maybe you're just looking for a way to keep warm on a cool evening, then look no further - This stunning chiminea, made by La Hacienda, will have you covered.
The chiminea has been made from strong steel, allowing it to burn using wood. It has a large opening on the front allowing for easy access when topping up the logs, and also makes cleaning simpler once it has cooled down.
The unit stands at a glorious 1.6 metres tall, making it a striking feature that will look great in any garden or outdoor space. It is simple to assemble, and lighter than cast iron alternatives, allowing it to easily be moved when necessary.
Also included in the set is a small grill to place your wood on top of; this allows a little extra oxygen to get underneath, helping your fire along. The whole unit can be delivered to you free of charge, so why wait any longer?
Product Specifications
Assembled Height
- 160cm
Width at base
- 60cm
Depth at base
- 60cm
Weight:
9.8Kg approx.
Please Note:
Metal chimeneas will rust. How much they rust is dependant on whether they are left outside in all weathers, how much they are used, how they are looked after. All can be re-painted. Rust does not affect use
Product Reviews
Colorado Black Extra Large Steel Chiminea by La Hacienda
Overall rating 87.3% from 30 reviews