Hozelock Green Power Thermal Weeder
Product Code : 4184 Barcode : 5010646057530
The Hozelock Green Power Thermal Weeder is the ultimate weed killer, providing a 600ºC thermal shock, killing weeds in 3 seconds.

No gas, no pesticides, no flames just quick, easy and economical weed killing power. The protective shield not only makes for precise and targeted treatment but also means that it's safe and easy to use.

Please Note: For use on small patio and drive weeds

Delivery Options
- Available at Checkout
Estimated delivery
Free Delivery
3 - 5 Working Days
Product Description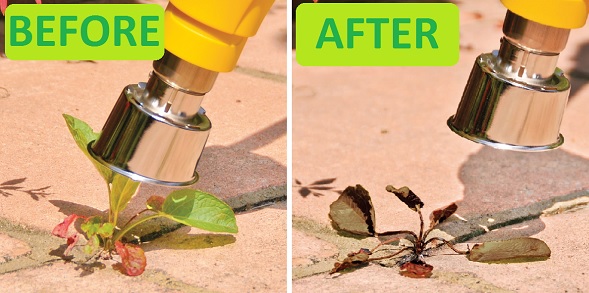 Kills the weed and the root
No gas or flame
No harmful chemicals
Heats up in 45 seconds
Includes safety 'quick cool' when finished
Free delivery
The ultimate weed killer
Don't waste any more time staining your patio with spray-on weed killers, treat your garden to Hozelock's Green Power Thermal Weed Killer!
The innovative device uses concentrated heat inside a small metal cup. The cup is held over a weed, pulsing temperatures up to 600ºC into it, bursting the plant cells and killing it at the root. Only three seconds is needed to kill the weed, and it will have shrivelled up, ready to be disposed of less than 48 hours after the shock treatment.
Powered by Electric:
The Green Power weeder is powered via your mains electric and is supplied with a 3m cable.
Safety
It's protective cone means it is precise and target just the area you want to treat. The unit heats up in seconds and cools down almost as quickly.
Storage
The Green Power Thermal Weeder features an integral hanging hook for easy storage. Once it has cooled down it is safe to store away in a shed or garage
Please Note:
Not suitable for removing weeds from wooden decking.
Product Reviews
Hozelock Green Power Thermal Weeder
Overall rating 74.8% from 23 reviews