Hartman Amalfi Comfort 2 Seater Bench in Bronze / Amber
Product Code : AMCOM19/BA/2SB Barcode : 8711268559477
Extra large and thick-cushioned bench
Somewhere that you'll love to spend your summer days, this Hartman Amalfi Comfort 2 Seat Bench is designed for luxury. It is part of the Comfort range, so is larger than the original Amalfi furniture range and features a thicker cushion.

Presented in a bronze and amber colourway, the body is made from robust cast aluminium and is topped with a Weatherready cushion. These hard-wearing materials mean that this bench can be left out in all weathers (bring the cushion in over winter).

Hartman cast aluminium comes with a 5 year manufacturer's warranty
Delivery Options
- Available at Checkout
Estimated delivery
Free Delivery
3 - 7 Working Days
Product Description
Hartman Amalfi Comfort 2 Seat Bench
Larger than original Amalfi garden furniture
Bronze/amber colourway
Made from durable cast aluminium
Topped with Weatherready cushions
Can be left out all year round
Low maintenance
5 year warranty on Hartman cast aluminium
Ultra-Comfort Amalfi Bench
This Hartman Amalfi Comfort 2 Seat Bench is beautifully designed, luxuriously comfortable and perfect for creating a relaxed area to sit and enjoy your garden. As part of the Comfort range, it has the exact same look and style as the original Amalfi range, however it has an enlarged frame and thicker cushions.

The bench's body is made from cast aluminium which is ultra-durable and weather resistant. It can be left outside all year round and only requires minimal maintenance to keep it looking its best. The cushion included is Weatherready and can be left outside in any weather. It comes in a bronze and amber colourway.

Amalfi vs Amalfi Comfort
The Amalfi Comfort range takes everything that people love about Amalfi garden furniture and enlarges it. Featuring the same beautifully decorative chairs and tables, made from the same cast aluminium, the Amalfi Comfort range is simply the same garden furniture scaled up.

Amalfi Comfort features larger, chunkier cast aluminium, and thicker cushions for even more comfort.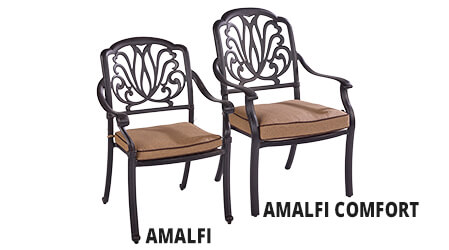 Weatherready Cushions
This Hartman garden furniture set comes complete with innovative Weatherready cushions. Manufactured using special microfibre all-weather fabric, these cushions will repel water during light showers, and let water flow straight through them in heavier downpours.

They utilise a clever system of perforated material wrapped around rapid-dry foam, allowing water to permeate through the cushion and then dry naturally - no harm done. As well as being stylish and comfortable, these cushions are also moisture, mildew and UV resistant. They can be stored outside all summer long, ready to be used quickly and conveniently, as and when they're needed.

Care and Maintenance
Thanks to the hard-wearing materials that this set has been made from, it doesn't require much maintenance to keep it looking its best. As it's made from cast aluminium, it's rust proof and can be left out all year round.

To clean the frame, simply wipe with warm, soapy water. It's better to use non-foaming soap if possible as this will not leave behind residue. The cushions are Weatherready, which means they can be left out in any weather, but to keep them in best possible condition, we would recommend storing them somewhere dry during the colder months. In the event of spillages and stains, wipe with a cloth and warm, soapy water.

Please Note: We would strongly advise against using a pressure washer to clean your garden furniture as it may cause damage and will not be covered by your warranty.

Additional Information
Dimensions:
Height 105 x Width 121 x Depth 73cm

Warranty:
All cast aluminium components covered by a 5 year manufacturer's warranty
All fabric components covered by a 1 year manufacturer's warranty


Product Reviews
Hartman Amalfi Comfort 2 Seater Bench in Bronze / Amber
Overall rating 96% from 5 reviews