Aruba Aluminium Relaxer with Cushion
Product Code : AAR-LMS
Price dropped to Clear
Relax in style and comfort this summer with a brand new Hartman Aruba recliner. These comfortable chairs have been manufactured with your comfort and convenience in mind, built from strong steel and supplied with a hard-wearing padded cushion.

The recliner's frame has been made from steel, making it strong and durable. It comes supplied with luxurious padded seat cushions that are hard wearing and easy to clean.

Two year manufacturer's warranty included
Delivery Options
- Available at Checkout
Estimated delivery
Free Delivery
1 - 3 Working Days
£3.25
Delivery Tuesday, 22 October
Order before 16:00 tomorrow!
£3.25
Specified Delivery Date
Product Description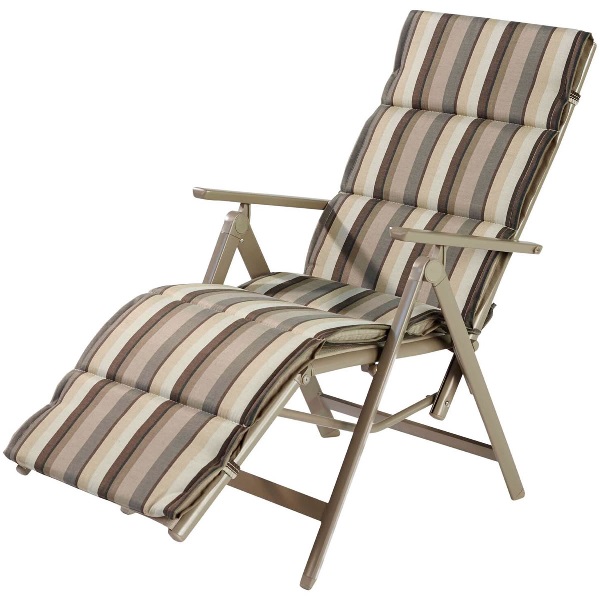 Sturdy and durable
Luxurious cushions included
Chair supplied fully assembled
Free Delivery
Two year manufacturer's warranty included
Built for Comfort and Convenience!
The Aruba relaxer is incredibly comfortable for stretching out and snoozing in the sunshine. This durable all weather lounger combines a sturdy steel frame with textaline sling topped off with a soft Mocha stripe cushion which makes for a lightweight, strong and durable garden must have.
The recliner's frame has been made from steel, making it strong and durable. It comes supplied with luxurious padded seat cushions that are hard wearing and easy to clean.
Care and Maintenance
The frames of the Aruba can easily be cleaned with warm soapy water and a light hosing down. They can be left out all year around, though a cover is advised during long periods of frost or snow. The cushions can also be hand washed, and are hardwearing. The cushions, however, are not weather proof, so it is advisable to cover these or bring them indoors when not in use.
Additional information
Dimensions
Height
113 x
Width
62 x
Depth
69cm
Contents
-1x
Hartman Aruba Aluminium Recliner
-1x
Cushion Set
Warranty
All metal components are protected by a two year manufacturer's warranty.
All fabric components are protected by a 12 month manufacturer's warranty.
Product Reviews
Aruba Aluminium Relaxer with Cushion
Overall rating 100% from 1 reviews