Hartman Aurora Bistro Set in Carbon / Pewter
Product Code : 62400122 Barcode : 8711268588569
Secure with a deposit!
Just A £25 Deposit Required
Sleek contemporary set
The Hartman Aurora Bistro Set is perfect for smaller gardens, for when you and a friend or loved one want to sit back and relax on a lazy summer afternoon.

This stunning cast aluminium set features two cushion topped chairs and a small, round table, in a sleek carbon colourway. The table has a tuscan-style ceramic glass top in a natural finish.

The Hartman Aurora comes with a 3 year manufacturer warranty on the aluminium.
Delivery Options
- Available at Checkout
Free Delivery
Delivered Early June 21
Product Description
Hartman Aurora Bistro Set
Carbon and pewter colourway
Sturdy cast aluminium frame
Ceramic glass topped table
Weatherready cushions
3 year manufacturer warranty on aluminium
Stunning bistro set
The Hartman Aurora Bistro Set is sure to enhance your garden space, whatever the size. This aluminium set comes in a sleek carbon colourway, with pewter cushions, which would compliment many garden designs.

The set comes with two cushion topped chairs, enabling you to sit out in comfort for many hours, enjoying drinks and snacks on the small but perfectly formed table.

The table is topped with an attractive ceramic glass top in a tuscan style, complimenting the carbon frame.

The cushions are Weatherready, meaning they are weather resistant, and can be left out all summer season. The cushions are made of a special fabric which enables rain showers to bead and wash off. Heavier showers pass through the specially designed inner core, through the mesh base, meaning the cushions will dry out quickly.

The Hartman Aurora collection includes a number of stunning garden furniture pieces, in a variety of sizes, from bistro sets, to 4, 6 and 8 seater dining and sets, to suit any garden size.


Weatherready Cushions
This Hartman garden furniture set comes complete with innovative Weatherready cushions. Manufactured using special microfibre all-weather fabric, these cushions will repel water during light showers, and let water flow straight through them in heavier downpours.

They utilise a clever system of perforated material wrapped around rapid-dry foam, allowing water to permeate through the cushion and then dry naturally - no harm done. As well as being stylish and comfortable, these cushions are also moisture, mildew and UV resistant. They can be stored outside all summer long, ready to be used quickly and conveniently, as and when they're needed.


Care and Maintenance
Thanks to the hard-wearing materials that this set has been made from, it doesn't require much maintenance to keep it looking its best. As it's made from aluminium, it's rust proof and can be left out all year round.

To clean the frame, simply wipe with warm, soapy water. It's better to use non-foaming soap if possible as this will not leave behind residue. The cushions are Weatherready, which means they can be left out in any weather, but to keep them in best possible condition, we would recommend storing them somewhere dry during the colder months. In the event of spillages and stains, wipe with a cloth and warm, soapy water.

Please Note: We would strongly advise against using a pressure washer to clean your garden furniture as it may cause damage and will not be covered by your warranty.

Additional Information
This set comes with:
1x 70cm Round bistro table with Tuscan ceramic glass
2x Dining chairs

Dimensions:
Aurora Dining Chair: Height 89cm Width 61cm Depth 64cm
Aurora Bistro Tabler: Height 67cm Width 70cm Depth 70cm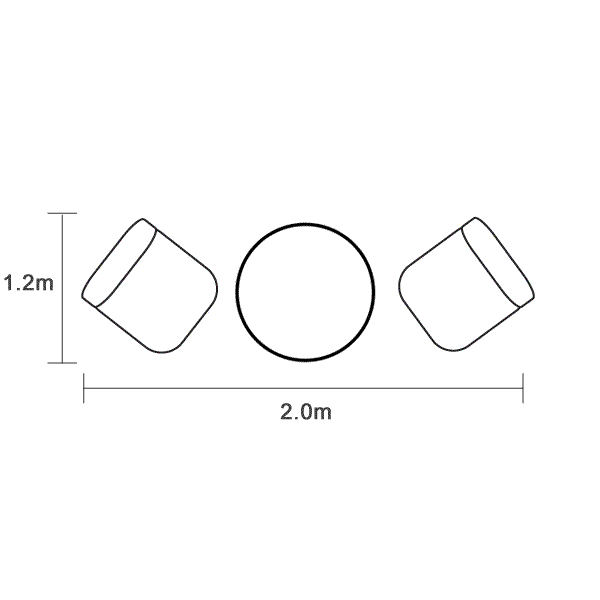 Product Reviews
Hartman Aurora Bistro Set in Carbon / Pewter
Overall rating 100% from 1 reviews