Hartman Capri Replacement Seat Cushion - Platinum
Product Code : 60827431-PL
Weatherready Cushion
Wouldn't it be great if you had a spare set of cushions to use while your others were being washed? Well, now you can, with the Hartman Capri Replacement Seat Cushion!

These cushions are the same as those included with the Capri chair sets, and are now available to purchase separately. This one is presented in a stunning platinum colourway.

Each cushion is weatherproof and can be left out all summer season. They are machine washable at just 30º, minimising the need for maintenance.

It comes with a 1 year manufacturer warranty One cushion supplied


Delivery Options
- Available at Checkout
Estimated delivery
Free Delivery
1 - 3 Working Days
£5
Delivery Thursday, 2 April
Order before 16:00 tomorrow!
£5
Specified Delivery Date
Product Description
Hartman Berkeley Replacement Seat Cushion
Made by Hartman for Berkeley Chairs
Platinum colourway
Weatherproof design
Machine Washable at 30º
1 year warranty included
Stylish and Weatherproof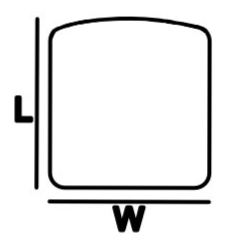 Wouldn't it be great if you had a spare set of cushions to use while your others were being washed? Well, now you can, with the Hartman Capri Replacement Seat Cushion!
These cushions are the same as those included with the Capri chair sets, and are now available to purchase separately. This one is presented in a stunning platinum colourway.
Each cushion is weatherproof and can be left out all summer season. They are machine washable at just 30º, minimising the need for maintenance.
Weatherready Cushions
Manufactured using special microfibre all-weather fabric, these Weatherready cushions will repel water during light showers, and let water flow straight through them in heavier downpours.

They utilise a clever system of perforated material wrapped around rapid-dry foam, allowing water to permeate through the cushion and then dry naturally - no harm done. As well as being stylish and comfortable, these cushions are also moisture, mildew and UV resistant. They can be stored outside all summer long, ready to be used quickly and conveniently, as and when they're needed.

Additional Information
Dimensions:
Hartman Amalfi Replacement Seat Cushion: Length 46 x Width 48 x Depth approx. 7-8cm