Hartman Curve 4 Seater Dining Set in Grey / Charcoal
Product Code : CRV/4S/DG Barcode : 8711268562378
New Range For 2019!
Enjoy alfresco meals in the comfort of your own back garden with this Hartman Curve 4 Seat Dining Set. This set includes a parasol with base and is part of the new-for-2019 Curve range.

This weave dining set is made from hard-wearing synthetic resin that has been woven onto an aluminium frame. Cushions are removable so can be stored away when not in use.
Delivery Options
- Available at Checkout
Estimated delivery
Free Delivery
1 - 3 Working Days
£3.25
Delivery Monday, 27 January
Order before 16:00 tomorrow!
£3.25
Specified Delivery Date
Product Description
Hartman Curve 4 Seater Dining Set
New range for 2019
Weather resistant synthetic resin weave
Sturdy, rustproof aluminium frame
Removable cushions for easy storage
Can be left out in all weathers (excl. cushions)
Low maintenance
Exceptional Weave Garden Furniture
This Hartman Curve 4 Seat Dining Set delivers everything you could ask for from an outdoor weave dining set. Consisting of four dining chairs, a glass-top round table and a 2.5m parasol with base, this set is presented in a stunning cool grey and charcoal colourway.

The set is made using synthetic resin weave that has been handwoven onto a strong, lightweight and rustproof aluminium frame. The cushions are not weatherproof but are removable so are easy to store when not in use. The 2.5m parasol that comes with this set is raised and lowered using a convenient hand crank located on the pole.

Care and Maintenance
This Hartman garden furniture set is made from robust materials and doesn't require much maintenance to keep it looking its best. The synthetic resin weave will generally only need to be cleaned at the beginning and end of the summer season.

To clean, simply use a cloth or sponge and some warm, soapy water. It is important to use non-foaming soap where possible as this won't leave behind any residue that could attract dirt. It is also important to ensure that corrosive substances such as tree sap or bird droppings are cleaned off as soon as possible.

The cushions included on this set are not Weatherready so should not be left out in all weathers. When not in use, it is advised to store them somewhere dry. To clean, simply use a sponge or cloth and some warm, soapy water. Again, it is best to use non-foaming soap where possible.

Additional Information
1 x Curve 4 Seat Round Table
4 x Curve Chairs
1 x 2.5m Round Parasol
1 x 15kg Parasol Base

Dimensions:
Curve Round Table: Height 75 x Diameter 110cm
Curve Chair: Height 88 x Width 60 x Depth 68cm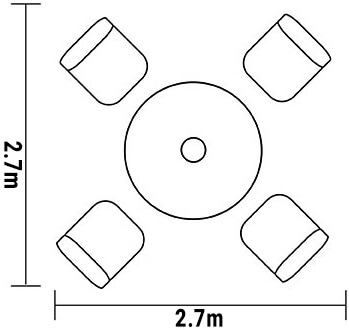 Warranty:
All weave and aluminium components are covered by a 3 year manufacturer's warranty
All cushion and textile components are covered by a 1 year manufacturer's warranty