2018 - Jamie Oliver Contemporary 4 Seater Grilling Set - Riven/Pewter
Product Code : JOGS-CONT-PEWTER/4S Barcode : 8711268443349
Now with Weather Ready cushions
The Jamie Oliver Contemporary 4 Seater Grill Set is an excellent multipurpose table and chair set that brings an exciting twist to outdoor dining. Featuring a built-in fire pit, this table allows you to grill food without ever having to leave your seat.

This set has been made using sturdy but lightweight aluminium, making it rust resistant and virtually maintenance free. As a 2018 Hartman furniture set, the chairs come complete with innovative Weatherready cushions.

2 year manufacturer's warranty included.

Delivery Options
- Available at Checkout
Free Delivery
Delivered Early to Mid Feb
Product Description
Strong and durable, yet lightweight
Virtually maintenance free
Rust resistant
Weatherready cushions included
Stackable chairs for easy storage
2 year manufacturers warranty
Multipurpose design
The Jamie Oliver Contemporary 4 Seater Grill Set brings a new dimension to entertaining guests and outdoor dining. The set consists of four comfortable contemporary dining chairs and a large multipurpose grilling table. The table features a fire pit in the centre, which makes barbecuing more convenient than even as food can be cooked without ever having to leave the table! The set also comes with a dome ember guard, which allows the grill section to be safely covered when in use.

The fire pit also doubles up as an ice bucket when not in use. Simply fill the bucket with ice, and beverages can be kept nicely chilled and easily accessible.

The set is made from aluminium, which makes it lightweight but sturdy and rust resistant. Its hard-wearing materials make it virtually maintenance free and mean it can be left outside all year round. As well as this, as a 2018 set, the chairs also come with Weatherready cushions which utilise a ingenious design that allows them to be kept in situ all summer long.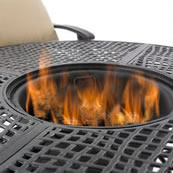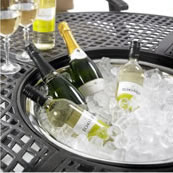 Weatherready Cushions
This Hartman garden furniture set comes complete with innovative Weatherready cushions. Manufactured using special microfibre all-weather fabric, these cushions will repel water during light showers, and let water flow straight through them in heavier downpours.

They utilise a clever system of perforated material wrapped around rapid-dry foam, allowing water to permeate through the cushion and then dry naturally - no harm done. As well as being stylish and comfortable, these cushions are also moisture, mildew and UV resistant. They can be stored outside all year round, ready to be used quickly and conveniently, as and when they're needed.

Your Furniture, Your Way
We will always do our best to accommodate your requests, so if you would like to tweak this set to better suit your needs, please do let us know. We often add extra chairs into sets where we have them available and we are equally happy to remove chairs where less are needed. Please feel free to contact us to discuss how we can best meet your garden furniture requirements.

Care and Maintenance
Made from aluminium, this set is practically maintenance free and only requires a small amount of attention to keep it looking its best. It does not need to be covered when not in use, as aluminium is weather resistant.

Although it wont rust, aluminium does oxidise over time which will result in discolouration. To remedy this, the aluminium should be washed with warm soapy water. It is also good to use a gentle acid such as lemon or vinegar - however, alkaline products such as ammonia or soda should never be used to clean your aluminium garden furniture.

Do not use a pressure washer to clean your furniture as it may cause damage and won't be covered under your warranty.

The cushions are Weatherready and can be kept outdoors through the summer, but we would advise storing them somewhere dry during winter months. In the event of spillages or stains, they can be wiped down with warm, soapy water.

The fire pit insert is made from steel so shouldn't be left outside when not in use. To extend the life of the fire pit insert, put a layer of sand at the bottom of it when in use.

Contents
- 1x Cast Aluminium Table (1.3m diameter)
- 4x Stackable Cast Aluminium Chairs
- 4x Weatherproof pewter Cushions
- 1x Center Grill Set
- 1x Stainless Ice Bucket
- 1x Dome Ember Guard


Additional Information
Dimensions:
Table: Height 74cm x Width 132cm x Depth 132cm
Chair: Height 91cm x Width 63cm X Depth 69cm

Grilling Set vs Fire Pit Set?

The Jamie Oliver range offers a low dinning option called the fire pit set and a higher dinning option called the grilling set. Both the grilling table and the fire pit table come with the same accessories, have a centre grilling area and the exact same table diameter. The key difference is the table height. You can see from the diagram that the dining height of the grilling set is similar to that of a normal indoor dining set, whilst the fire pit set is much lower and is designed to provide a more relaxed seating position with a wider chair and deeper cushions.
Warranty:
All cast aluminium components are protected by a 2 year manufacturer's warranty.
All fabric components are protected by a 2 year manufacturer's warranty.