EX-DISPLAY / COLLECTION ONLY - Jamie Oliver Loungers in Riven / Pewter(A pair)
Product Code : 68769031-SHOWROOM
Black Tag Event, Now On!
These 2 Loungers have been assembled and are available for collection only
Brief Description
This item is Ex-display, meaning it has been assembled and is available for collection only.
Ex-display goods will have wear from showroom use. Some sets may have faults, please call us on 01283 543 974 for more information and details.
Viewing in our midlands showroom is recommended before purchase and local delivery can be quoted for.
The Jamie Oliver Lounger is the ultimate product choice for relaxation. The deep cushioned seat, in a riven and pewter colourway, can be adjusted to lock into your ideal position from sitting, right through to lying back and relaxing.

It is completely weatherproof and practical thanks to the lightweight yet sturdy aluminium frame. Part of the Jamie Oliver furniture collection, the lounger looks great on its own or when matched with other items from the series.

Delivery Options
- Available at Checkout
Product Description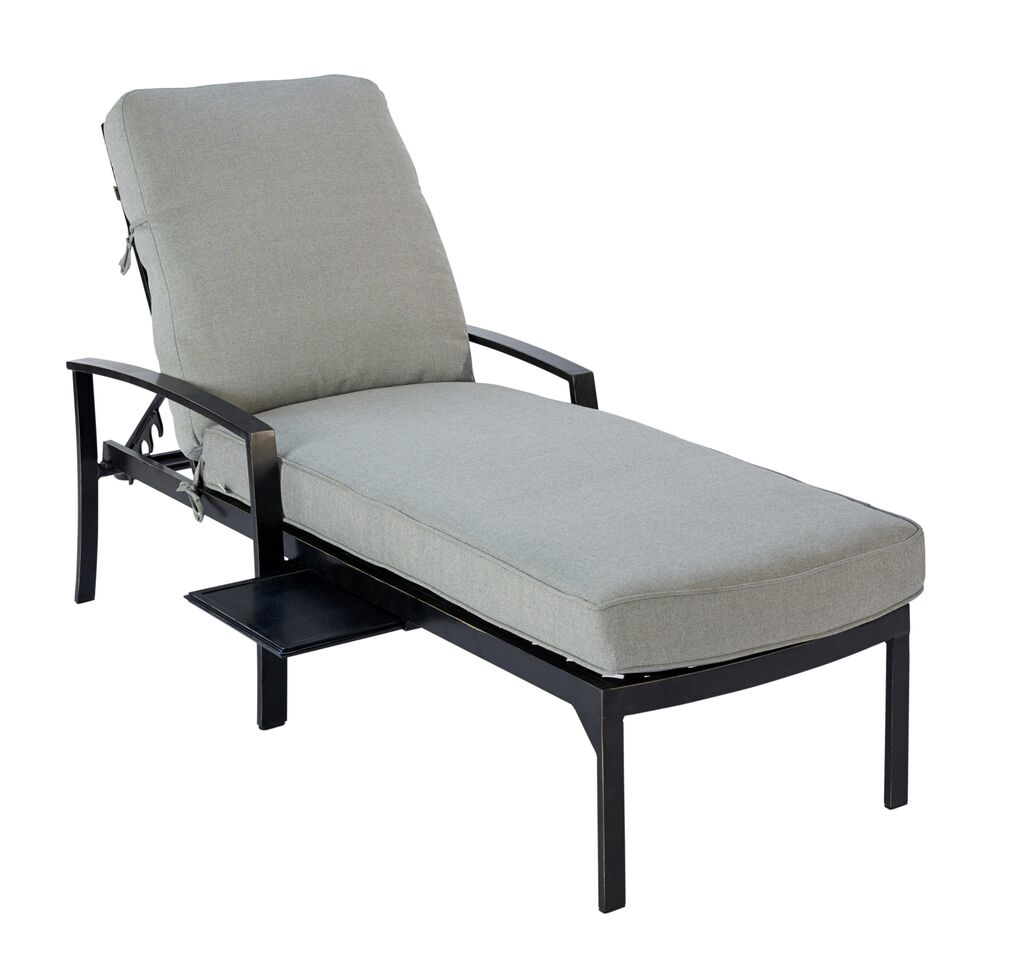 Strong and Durable, yet lightweight
Virtually maintenance free and will not rust
Ruggedness of cast aluminium complemented by soft, contemporary cushions
Adjustable back rest for complete comfort
Sit back and relax
This comfortable Jamie Oliver Lounger is a top choice for relaxation when a chair just won't cut it. The backrest can be adjusted to sit upright, lean back or completely flat, depending on your needs.

The lounger is presented in a contemporary colourway, with a riven shaded frame and pewter cushion, and would look wonderful in almost any garden setting, whether on its own or to add to a Jamie Oliver garden furniture collection.

Made from lightweight yet sturdy aluminium, this lounger's weatherproof and rustproof design makes it a great addition to any outdoor space. It comes with a thick and comfy Weatherready cushion which is made from permeable material, meaning it can be kept in place outside all summer season, whatever the weather.


Lightweight and Durable
The Jamie Oliver Loungers are constructed from aluminium with a contemporary riven finish, making them light without compromising on the strength and quality.
The seats have been designed to be able to withstand most types of weather with no need for a cover and without any risk of the metal rusting over time.
The cushions have also been produced with a highly durable weatherproof fabric, however, these can easily be removed if desired for ease of cleaning or storage purposes during long or heavy spells of rain or snow.
The cushions can easily be machine washed at 30º. Simply plump them back into shape while they are still wet and allow them to dry. The cast aluminium furniture can also be kept clean with warm soapy water when necessary.
NOTE:
Do not use a pressure washer on your furniture as this can cause damage.
Weatherready Cushions
This Hartman garden furniture set comes complete with innovative Weatherready cushions. Manufactured using special microfibre all-weather fabric, these cushions will repel water during light showers, and let water flow straight through them in heavier downpours.

They utilise a clever system of perforated material wrapped around rapid-dry foam, allowing water to permeate through the cushion and then dry naturally - no harm done. As well as being stylish and comfortable, these cushions are also moisture, mildew and UV resistant. They can be stored outside all summer long, ready to be used quickly and conveniently, as and when they're needed.

Contents
Riven Aluminium Lounger
Weatherproof Pewter Cushion Set
Dimensions:
Height 50/99 x Length 199 x Depth 74cm