Keter Oakland 1175 Garden Shed in Brownish Grey
Product Code : OAK1175
Innovative Duotech Walls
Providing the perfect storage space for all of your garden items and equipment, the Keter Oakland 1175 Garden Shed is a spacious and stylish outdoor storage unit. It is large enough for an adult to stand up inside and features durable Duotech walls and a hard-wearing floor, making it perfect for bulkier items such as lawn mowers. The shed has sturdy double doors, two windows and a skylight in the roof, removing the need for interior lighting during the day.

Delivery Options
- Available at Checkout
Free Delivery
5-10 Working Days
Product Description
Large enough for an adult to stand up in
Made using innovative Duotech building material
Designed for easy home assembly
Weather resistant and low maintenance
Can be painted and customised
Fantastic Outdoor Storage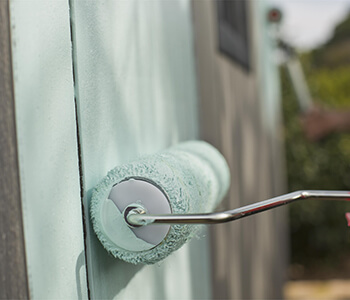 The Keter Oakland 1175 garden shed is a heavy duty outdoor storage unit perfect for tools, mowers, and other bulky garden items. Made from Keter's innovative Duotech building material, this shed is hard-wearing and features an extremely durable floor which is suitable for heavier equipment such as ride-on lawn mowers or quad bikes.

The shed has sturdy double doors, two windows and a skylight, and the Duotech walls have been given a realistic wood-look finish. The walls can be painted, making it easy to customise and style in whichever way you would like. Hanging shelves inside the shed is no problem as the Duotech walls can be drilled into, meaning that the interior can be fully modified to suit your needs.

The ceiling in this storage shed is high enough that an adult can comfortably stand up inside it and the sturdy roof is strong enough to withstand snow loads of up to 100kg/sqm.

Duotech Walls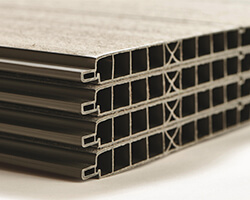 This Keter garden shed makes use of their innovative Duotech building material which has a double wall construction with internal reinforcements. By using this building material, Keter's garden sheds are able to remain firm and sturdy, while still being relatively lightweight and easy to assemble. The pieces have been cut to the perfect sizes to allow them to simply slot together, making construction stress-free and less time-consuming. Duotech is weatherproof and virtually maintenance free, and is designed to last for years to come.

Duotech has a natural, wood-look finish to it, making it perfect for outdoor spaces of all styles and can be further customised by painting it. The inside of these sheds can also be modified with shelves, tool hangers and other wall adornments.

Assembly Instructions
Lost your assembly instructions, or just fancy taking a look at what you can expect when assembling this product?
Download the assembly instruction here.

Additional Information
Dimensions:

External:
Height 254 x Width 350 x Depth 229cm

Intneral:
Height 242 x Width 324 x Depth 210cm

Floor Dimensions:
Width 342 x Depth 210cm