EX DISPLAY/ COLLECTION ONLY Kettler Palma Mini Corner Fire Pit Set in White Wash / Taupe
Product Code : 0193325-5510MC-SHOWROOM
Black Tag Event, Now On!
This item has been assembled and is available for collection only
Brief Description
This item is Ex-display, meaning it has been assembled and is available for collection only.
Ex-display goods will have wear from showroom use. Some sets may have faults, please call us on 01283 543 974 for more information and details.
Viewing in our midlands showroom is recommended before purchase and local delivery can be quoted for.
The Kettler Palma Mini Corner Set is compact and comfortable - perfectly sized for smaller gardens or conservatories. It is large enough to seat up to 7 people.



Delivery Options
- Available at Checkout
Product Description
Palma Mini Corner Set
Fire Pit Table
Weatherproof and UV resistant synthetic weave
Square tube aluminium frame
Extra supports along sofa for additional reinforcement
10cm thick seat cushions with 5cm foam core
Double-piped back cushions
Casual Dining Done Right
Relax in your garden day or night with this fantastic Kettler Palma Mini Corner Fire Pit set. Being more compact than the rest of the Kettler corner range, it can fit in modestly sized gardens but still seat up to 7 people.

The set is made using a synthetic weave which is both weatherproof and UV resistant. This, combined with the set's durable square tube aluminium frame, means that everything apart from the cushions can be left out all year round. There are additional supports along the sofa to provide further reinforcement.

Providing heat and light, the fire pit table is made out the same material as the rest of the set so looks perfect together as well as being made to a high quality. The tabletop is made from aluminium slats and have been hand painted, giving it a weathered wood look. It also comes with a handy metal lid which not only protects the fire pit when not in use, but allows you to optimise the entire table surface to suit your needs. There is a discreet storage section for you to store the gas canister in (not included) to have peace of mind that it's safely out of the way.

The cushions included on this set have been designed with comfort in mind. The seat cushions have a 5cm foam core and the back cushions are double-piped, making this set super comfortable and perfect for relaxation. They should be stored away when not in use

Assembly instructions can be viewed
here
and
here
Care & Maintenance
The hard-wearing materials that this set has been made from make it very low maintenance. However, to keep it in best possible condition, there are a few simple guidelines that you should follow.

The weave and aluminium frame are weather and UV resistant so can be left outside all year round. The weave will look its best if cleaned at the start and end of the summer season. To clean it, use warm, soapy water and a brush or cloth only. Do not use any abrasive cleaning chemicals and it is highly advisable not to use a pressure washer as it may cause damage. More corrosive substances, such as bird droppings and tree sap, should be cleaned off immediately.

The cushions are not suitable for dry cleaning and cannot be machine washed. To clean the cushions, sponge wash with warm water.

Components
This set comes with:
1 x 3 Seat Left Hand Unit
1 x 2 Seat Right Hand Unit
2 x Stool With Cushion
1 x Mini Corner Fire Pit Table

Dimensions
Individual Components: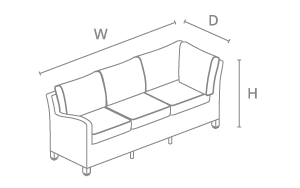 | | |
| --- | --- |
| Height: | 85cm |
| Width: | 206.5cm |
| Depth | 80cm |
| Seat Height: | 48cm |
| Arm Height: | 64cm |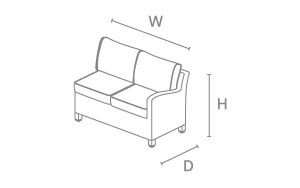 | | |
| --- | --- |
| Height: | 85cm |
| Width: | 120cm |
| Depth | 80cm |
| Seat Height: | 48cm |
| Arm Height: | 64cm |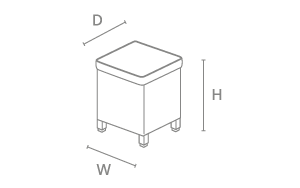 | | |
| --- | --- |
| Height: | 48cm |
| Width: | 38cm |
| Depth | 38cm |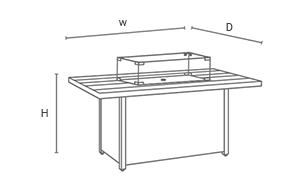 | | |
| --- | --- |
| Height: | 70cm |
| Width: | 110cm |
| Depth | 81cm |
Colour Options: