Maui Casual Dining Corner Furniture Set from LIFE - Yacht Grey - NO ARMCHAIR
Product Code : NL/1450-G/NAC
This Maui Casual Dining Corner consists of a modular corner seating unit and rectangular high dining table - ideal for outdoor dining or simply just relaxing.

Made from synthetic wicker, and held up by sturdy aluminium framework, this set is low maintenance and can be left outside all year round. All weather cushions included as standard.

Comes with a 2 year manufacturer's warranty

Please note: This set does not come with armchair included. If you would like to view this set with armchair included, please click here.
Delivery Options
- Available at Checkout
Estimated delivery
Free Delivery
1 - 3 Working Days
Product Description
Modular corner design
Hard-wearing synthetic resin weave
Strong yet lightweight aluminium framework
Can be left outside all year round
Low maintenance
2 year manufacturer's warranty
Magnificent Modular Furniture Set
The Maui Casual Dining Corner Set provides everything needed for fantastic outdoor entertaining, dining or relaxing. Consisting of a modular corner unit and a generous rectangular glass topped table, this set is the ideal place to take some time out to enjoy the garden.

The set is made using synthetic weave, which is weatherproof and can be left out all year round. It has been woven on to the set's strong but lightweight aluminium framework. The cushions included in this set utilise a micro-porous design which allows them to be left outside all year round without any fear of deterioration.

Care and Maintenance
The heavy-duty materials that this set has been created from make it practically maintenance free. The frame and weave are completely weatherproof and can be left outside in all conditions. The cushions are All Weather and can be kept outdoors through the summer, but we would advise storing them somewhere dry during winter months.

To clean the weave, for best results, use a small brush with some warm, diluted soapy water. Do not use a pressure washer to clean this product as it may cause damage. In the event of spillages and stains, the cushions can be wiped down with warm, soapy water.

Dimensions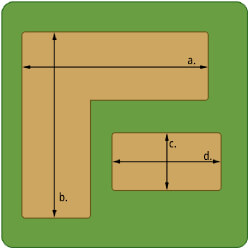 A (Modular Corner Unit):
255cm
B (Modular Corner Unit):
255cm
C (Table Width):
80cm
D (Table Length):
145cm
Modular Corner Unit Height:
70cm
Table Height:
71cm
More Information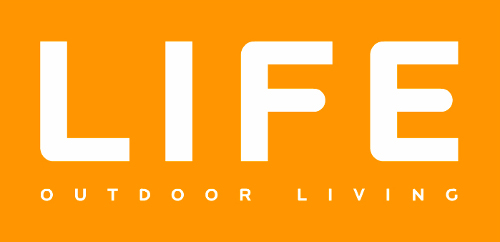 LIFE is a combination of market leading engineering, luxury and originality. Inspiring and practical.

Research development and forward thinking have brought this product to market. Designed by passionate technical engineers with a thirst for creativity, quality and clear innovation.

Absolutely no compromise on quality - from the materials used the build and finish.