Bosch Indego 400 Connect Robotic Lawn Mower
Product Code : 0.600.8B0.171 Barcode : 3165140828284
Logicut navigation system
Connected technology
Intuitive operating display
Auto Calendar function
Mulching function
Slope mowing capacity
Multi sensors
PIN and alarm system
Quick blade stop
Automatic charging system
Lithium-ion technology

Delivery Options
- Available at Checkout
Free Delivery
7-10 Working Days
Product Description
The Indego 400 Connect robotic lawnmower is an easy way to a nicely kept lawn. Thanks to its mulching system, grass clippings are distributed evenly to ensure a good fertilizing effect and a healthy lawn.

Once installed, the Indego 400 operates all by itself, manoeuvres around obstacles and goes back to charge on its own. The Indego 400 Connect can be easily controlled via smart device app, through which you can start/stop the mowing operation, check the mower status, and edit the cutting schedules and settings.

The Indego 400 Connect robotic lawnmower is able to take care of your lawn all by itself. Once set up, it moves around obstacles in the lawn and goes back to charge on its own. Now you can enjoy spending time on your nicely kept lawn without having to put in too much time and effort. Its mulching system removes the need for any grass collection as the grass clippings are used to feed the soil, which helps to provide ample nutrition for the grass to ensure a great looking lawn

No matter what the shape and size of your lawn (up to 400sqm), the Indego 400 Connect robotic lawnmower calculates the most efficient route to mow. The unique intelligent mowing system mows the lawn in an efficient and systematic way, whilst avoiding lawn stress and saving time. It remembers where it has already cut, allowing the Logicut Navigation System to be significantly faster than random navigation

The Indego 400 Connect is designed to cut your lawn regularly so it always appears neat and tidy. With the free app, your connected mower can be easily managed via a smart device, whether it's from the comfort of your sofa, a deckchair in the garden on when you are at the office. The mowing operation can be started, paused and cancelled, and the cutting schedules be set up and edited remotely, no matter where you are

The Indego 400 Connect lawnmower is not only smart but also safe. It features a range of safety and security features such as alarm and PIN code, and is even able to cut in the rain (no rain sensor required). Furthermore, it is particularly safe thanks to its quick stop blade, and features an automatic mulching system to help achieve a better-looking lawn. The free app is available for iOS and Android smartphones.

More Information
Technical Details
Battery voltage
18 V
Battery type
Lithium-ion
Cutting width
19 cm
Cutting system
3 pivoting blades
Cutting height adjustment
3 settings
Weight
7.5kg
Weight
7.5kg
Speed
40 cm/sec
Recommend lawn area
up to 400m sq.
Max slope
27%
Contents:
Bosch Indego 400 Connect Lawn Mower
Docking station
Docking station screws with hex key (F 016 800 468)
Fixing pegs - 180 pieces
Perimeter wire - 125m
Power supply unit
The Bosch Brand
Ever since being founded in the 1800s, Bosch has been a leader in the tools trade with its innovative product designs. Every step made by the market giant has been one in the right direction, with each new design being better than the last. Two generations on, the resulting tools, whether they are lawnmowers or hedge-trimmers, are at the pinnacle of the trade industry and readily available to everybody with a job to be done.
Known for placing the customer at the forefront of every design, Bosch produces tools that are durable, affordable and easy to use and maintain. With a Bosch tool, gardening is no longer a chore, it becomes a hobby, and with the wealth of available products at your fingertips, there is nothing that is unachievable.
Ask a garden4less expert about which tool is best suited to your needs today.
Warranty Information
The Bosch Warranty Period
Bosch now provide an Extended 3 Year Warranty on their garden tools, when registered at www.MyBosh-Tools.com within 28 days of purchase. Any unregeistered garden tool keeps its limited 2 year warranty.

Both warranty periods only apply to tools that are being used for domestic purposes and excludes batteries and chargers, which come with a 12 month warranty. During the warranty period the collection and return of your tool will be free of charge.
How To Claim
Bosch require proof of purchase for the product in order to make a warranty claim, the original invoice sent out with the goods will be sufficient for this. If this has been misplaced then we will happily provide a copy via email.

In order to make a claim under this guarantee you are required to either:
Use the repair collection service tool provided by submitting an online colleaction request on Bosch's Repair Service Page.

or

Submit in writing to bosch.servicecentre@uk.bosch.com the defect with the product, together with proof of purchase.

or

Phone the Bosch after sales service on 03447 360109 who will be happy to arrange and explain the warranty claim process.
Bosch's 5 Day Service Commitment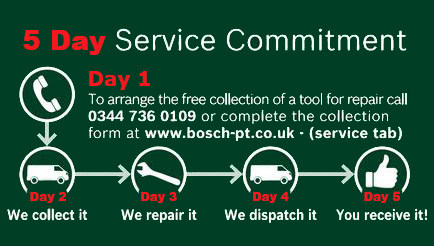 Bosch know how much of an inconvenience it is if your machine breaks down, so they commit to getting your machine back to you in 5 days.

Day 1: Collection gets arranged
Day 2: Picked up from you
Day 3: The unit is repaired
Day 4: Dispatched back to you
Day 5: You receive it back!

Full Warranty Details
The most up to date warranty information and full conditions can be found on Bosch's garden tools warranty page.
We're always happy to help
Don't forget that garden4less are always here to help, so please contact us if you have any difficulties with the warranty process with one of our orders.
Questions and answers
(1 questions & 1 answers)