Bosch 14.4v 1.3Ah Lithium-ion Battery
Product Code : 2607336038 Barcode : 3165140438711
This Bosch 14.4v 1.3Ah Battery is suitable for a wide variety of Bosch garden products.

Delivery Options
- Available at Checkout
Estimated delivery
Free Delivery
2-7 Working Days
Product Description
This Bosch 14.4v 1.3Ah Battery is suitable for a wide variety of Bosch garden products.

More Information

Why Lithium Ion?
Lithium-Ion Technology
The Lithium-Ion technology means that the tool is always ready to use.
The Advantages of Lithium-Ion Technology

Tools with Lithium-Ion technology are ready for use practically all of the time. Regardless of whether the battery is fully charged, partially charged, or flat, you can put it in the charging station without having to worry about self-discharge or memory effect.
Small Tools, Big Progress-Simply Remarkable

Bosch Lithium-Ion cordless tools like the PSB 18 are ready for use quickly. Even after a period of 4 months on standby, a fully charged Lithium-Ion battery is still charged to approximately 85 per cent. This means that Bosch Power is available to you for six times longer than that of conventional NiCd batteries.
Full Power at all Times

No self-discharge, no memory effect: constant battery capacity over the entire lifetime. Always ready when you are thanks to lithium-Ion technology.
Same Battery Power at Half the Size

Due to the Lithium-Ion technology, the size and weight of the batteries are reduced by approximately 60 per cent compared to conventional nickel cadmium batteries--although they offer the same amount of power.
Batteries That Can Withstand the Elements

The intelligent electronic cell protection, Bosch ECP, protects the Lithium-Ion batteries against excessive temperatures and overload, therefore giving them a particularly long lifetime.
High Power, Low Weight

Bosch cordless tools with Lithium-Ion technology impress with their very compact design, low weight and very good ease of use. This saves you a lot of effort when doing those DIY jobs.
The Bosch Brand
Ever since being founded in the 1800s, Bosch has been a leader in the tools trade with its innovative product designs. Every step made by the market giant has been one in the right direction, with each new design being better than the last. Two generations on, the resulting tools, whether they are lawnmowers or hedge-trimmers, are at the pinnacle of the trade industry and readily available to everybody with a job to be done.
Known for placing the customer at the forefront of every design, Bosch produces tools that are durable, affordable and easy to use and maintain. With a Bosch tool, gardening is no longer a chore, it becomes a hobby, and with the wealth of available products at your fingertips, there is nothing that is unachievable.
Ask a garden4less expert about which tool is best suited to your needs today.
Warranty Information
The Bosch Warranty Period
Bosch now provide an Extended 3 Year Warranty on their garden tools, when registered at www.MyBosh-Tools.com within 28 days of purchase. Any unregeistered garden tool keeps its limited 2 year warranty.

Both warranty periods only apply to tools that are being used for domestic purposes and excludes batteries and chargers, which come with a 12 month warranty. During the warranty period the collection and return of your tool will be free of charge.
How To Claim
Bosch require proof of purchase for the product in order to make a warranty claim, the original invoice sent out with the goods will be sufficient for this. If this has been misplaced then we will happily provide a copy via email.

In order to make a claim under this guarantee you are required to either:
Use the repair collection service tool provided by submitting an online colleaction request on Bosch's Repair Service Page.

or

Submit in writing to bosch.servicecentre@uk.bosch.com the defect with the product, together with proof of purchase.

or

Phone the Bosch after sales service on 03447 360109 who will be happy to arrange and explain the warranty claim process.
Bosch's 5 Day Service Commitment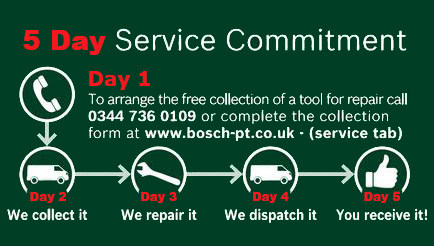 Bosch know how much of an inconvenience it is if your machine breaks down, so they commit to getting your machine back to you in 5 days.

Day 1: Collection gets arranged
Day 2: Picked up from you
Day 3: The unit is repaired
Day 4: Dispatched back to you
Day 5: You receive it back!

Full Warranty Details
The most up to date warranty information and full conditions can be found on Bosch's garden tools warranty page.
We're always happy to help
Don't forget that garden4less are always here to help, so please contact us if you have any difficulties with the warranty process with one of our orders.