Muck Boot - Arctic Ice Mid - Black/Hot Pink
Product Code : AS2MV-404
End of Summer Sale Now On!
Designed for extremely low temperatures
100% Waterproof
8mm Neoprene and Fleece Lining for warmth
Extended Rubber Exterior for protection
Comfort Insole
Vibram Arctic Grip Outsole
Thermochromatic Lug on Outsole
Pull-tab for easy on and off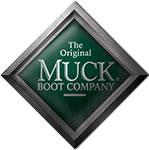 Product Description
The winter can be unpredictable, but your footwear shouldn't be. That is why Muck Boot has developed the Arctic Ice range. These winter sport boots step up the warmth factor with 8mm neoprene inner boot layered with soft fleece lining for ultimate warmth in extreme conditions. The stretch-fit top-line binding keeps the boots snug to your legs to keep cold air out and warm air in. The outsole features Vibram Arctic Grip, the new ground-breaking sole technology specifically engineered to perform on wet ice. As the temperature drops to near freezing, the thermochromatic lug on each sole turns white to blue, to alert you that the temperature is low enough for ice formation. Vibram Arctic Grip is the most advanced cold weather gripping system Vibram® has ever created; now you can tread on the iciest of surfaces with confidence.

Warranty Information
Customers who have purchased Muck Boots that fall under the Manufacturer's warranty should send the items back to Garden4Less via the return address provided.

Warranty Outline
The Original Muck Boot Company®, a Honeywell Company, warrants to the original end customer, that its footwear will be free from defects in materials and workmanship for a period of one year from the date of purchase by the original end customer. For warranty questions, please contact the MuckBoot Customer Care team on 02034 811333.

Exclusions
This Limited Warranty does not cover any damage arising from normal wear and tear, failure to adequately maintain and store the footwear, unauthorized alterations, repairs or modifications not performed by The Original Muck Boot Company®, footwear used other than in the manner intended, improper or inadequate fit, use of a safety boot after such boot has sustained damage rendering unsafe for use in the environment for which it was designed, damage caused by chemical or foreign substances. The Original Muck Boot Company does not warrant any of its footwear provides protection from bites from wildlife and is not liable for personal injury resulting from such bites.