Sierra Bronze Extra Large Cast Iron Chiminea Fireplace with Grill
Product Code : 56016XLZ Barcode : 5055025565169
Complete with chrome plated BBQ grill
This cast iron chiminea comes complete with a slide-in chrome plated grill making it the ideal choice if you want a high quality chiminea and also enjoy cooking outdoors.

All major components are made of cast iron giving this chiminea a quality feet. It also looks great as it is finished in an attractive bronze colour.

Dimensions
Height 125cm Diameter 45cm



Delivery Options
- Available at Checkout
Estimated delivery
Free Delivery
3 - 7 Working Days
Product Description
Made from quality cast iron
Bronze effect finish for authentic look
Chrome plated grill included for Al-Fresco cooking
Next day delivery available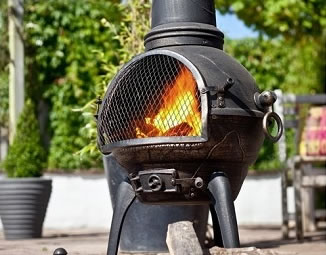 High Quality Design
You never have to choose between staying warm and staying outside again, with this top of the range chiminea from La Hacienda. The popular outdoor heater is made from a high quality cast iron, eliminating any risk of cracking due to heat.
The chiminea also includes a chrome plated grill as standard, which allows the unit to be used for both a heat source as well as a barbecue grill if you and your guests fancy a bit of Al-Fresco cooking.
This beautiful large chiminea has been given a stunning authentic bronze finish which looks absolutely fantastic in any garden or outdoor space.
Dimensions
Height
125cm
Diameter
45cm
Questions and answers
(1 questions & 1 answers)
Product Reviews
Sierra Bronze Extra Large Cast Iron Chiminea Fireplace with Grill
Overall rating 90.6% from 32 reviews