Large Toledo Bronze Grape Cast Iron Chiminea Fireplace with BBQ grill
Product Code : TOLEDO115-GR-BR Barcode : 5031599036328
Made From Robust Cast Iron!
This garden chiminea fireplace has been hand made using centuries old casting methods and apart from the charcoal grill they are made from 100% cast iron.

The cast iron has been specified to a certain thickness ensuring that this is a quality product.

This chiminea has a bronze finish, decorative grape castings and scroll effect feet making it a striking feature in any garden. It also comes complete with a Gardeco unique swivelling BBQ grill.

See Bosmere Storm Large Chinemea Cover.

Dimensions:
Height 115cm x Diameter 41.5cm
Delivery Options
- Available at Checkout
Estimated delivery
Free Delivery
2-7 Working Days
£5
Delivery Thursday, 11 August
Order before 14:00 tomorrow!
£5
Specified Delivery Date
Product Description
Cast Iron Design for Strength and Durability
Pull Out Cooking Grill Included
Modern Heat Resistant Bronze Finish
Stunning Grape Embossed Flue
5yr manufacturer warranty
Contemporary and Functional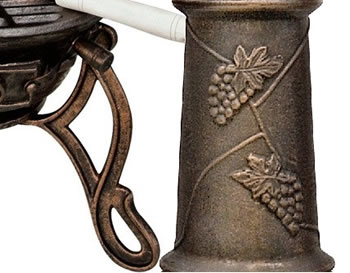 This Bronze Gardeco Chiminea makes a perfect addition to any garden or outdoor space, while offering warmth and ambience for you and your guests.
The robust chiminea has been forged out of sturdy cast iron which gives strength, while the decorative legs, embossed grape patterning and bronzed finish makes it a beautiful modern piece of garden decor.
This product is also a great solution for anybody wanting to enjoy a spot of Al-Fresco cooking, with a pull-out grill included.
See
Bosmere Storm Large Chinemea Cover
.
For great results cooking on your chiminea, read our
expert guide here!
Dimensions:
Height
115cm x
Diameter
41.5cm
Please Note:
Metal chimeneas will rust. How much they rust is dependant on whether they are left outside in all weathers, how much they are used, how they are looked after. All can be re-painted. Rust does not affect use.
Product Reviews
Large Toledo Bronze Grape Cast Iron Chiminea Fireplace with BBQ grill
Overall rating 98% from 41 reviews