Winawood Speyside 3 Seater Wood Effect Garden Bench in Powder Blue
Product Code : NEW_ITEM_81
Secure with a deposit!
Just A £20 Deposit Required
Zero Maintenance Wood Grain Effect
The Winawood Speyside 3 Seater Wood Effect Garden Bench would make a great addition to your garden. Designed for those who want low maintenance, high quality garden furniture, this bench is made from a synthetic polymer durable plastic, which has the attractive appearance of wood grain.

Available in an attractive powder blue colourway, the bench is fully weatherproof, does not need treating and can be left outside all year round.

Comes with a 2 year manufacturer warranty.
Delivery Options
- Available at Checkout
Free Delivery
Delivered Late April 2021
Product Description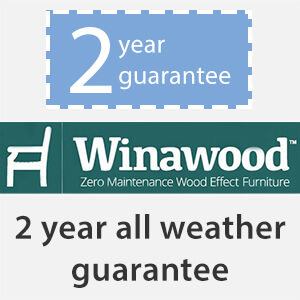 Winawood Speyside 3 Seater Wood Effect Garden Bench
Wood grain effect in powder blue colourway
Fully weatherproof
No treatment required
Easy to assemble
UV protected
Wipe clean
2 year manufacturer warranty
Authentic Wood Effect
Enjoy relaxing in your garden on the Winawood Speyside 3 Seater Wood Effect Garden Bench. This 3 seater bench has all appearance of a natural wood bench, but is in fact made from low maintenance heavy duty plastic. This synthetic polymer is heavier than wood, so the bench is more hard wearing, being less likely to blow away in the wind.

The bench, which comes in an attractive powder blue colourway, is fully weather proof and can be left outside all year in all adverse weather conditions, without ill effect to its appearance or structure. It is UV protected and waterproof - it will not warp or split - and will not need staining unlike traditional wooden furniture products.

The bench is easy to assemble and easy clean. Simply wipe with a damp cloth to remove dirt and grime.

Dimensions:
Length 156.6cm x Depth 60cm x Height 93.5cm

Weight: 31kg

Product Reviews
Winawood Speyside 3 Seater Wood Effect Garden Bench in Powder Blue
Overall rating 100% from 2 reviews