Which Bosch shredder? AXT 25TC vs AXT 25D
Written on 05/11/2015 at 12:40


These two shredders may look very similar on the outside, but what are they like on the inside? How do they compare on a performance level? The answer resides in the reason for the purchase. What do you need your shredder to do?

Bosch AXT 25D
The cheaper of the two shredders is the Bosch AXT 25D. It uses a drum of blades to hack through branches up to 38mm in diameter, with a throughput rate of 175kg/h. The shredder's real potential is optimised for smaller logs, branches and hedge trimmings, making it a great, affordable option for those looking to cut back their garden in a simple and stress-free way.

More information about the AXT 25D can be found here.


Bosch AXT 25TC The AXT 25D also has a big brother called the Bosch AXT 25TC. The unit is a little more expensive, but you will know where the extra money has been spent. With a patented 'turbine-cut' blade, the tool will happily take on any branch, wet or dry, thick or thin, without hesitation. It has an increased 45mm hopper opening allowing for larger pieces of wood to be inserted, but will easily tear through spiny branches than can often cause blockages in conventional shredders. It boasts an impressive throughput rate of 230kg/h. The AXT 25TC also comes complete with a pulse reverse system which will help in the event of a blockage.

More information about the model can be found here.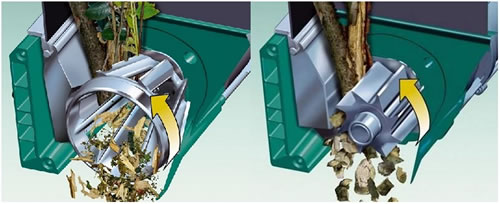 Patented Blades
The image to the left shows the blade of the ATX 25TC. Its turbine-cut system is purpose-made to cut through all types of branches.

The image on the right shows the drum blade of the AXT 25D. This blade is built to hack through smaller branches and shrubbery.



Similarities
Both units offer a spacious 53 litre collection bin which allows for easy disposal of the wood chippings once done. Alternatively, many gardening enthusiasts use the chippings as 'mulch' which can be mixed with soil to improve its productivity and reduce weed growth. The collection bin is also used to house the feeding hopper when not in use, meaning each shredder can be stored compactly. Both of the AXTs are also fitted with wheels which make them easy to manoeuver around the garden.

Each shredder also comes with a 2 year manufacturers warranty.


User Reviews
AXT 25TC - Jayne, Amersham.
"It is effectively self-feeding as it grabs each branch and eats it up while you prepare the next one. We are both amazed at how quickly a huge pile of branches becomes a neat pile of chipped bark, suitable for mulching paths, or as an aerator for hot composting. Highly recommended."

AXT 25TC - Alison, Chippenham.
"The collection bin holds a lot and when not in use, the feeder section is removed and stores inside the collection bin leaving the shredder quite small and compact. It's a clever design. I'm very glad we chose this model."

AXT 25D - John, Brentwood.
"I have well over 600ft of grossly overgrown privet, hawthorn and other type of hedging.
"The amount of wood that the machine is coping with brilliantly is staggering.

AXT 25D - Lesley, London.
"I have a 200 foot Garden and this shredder has made the disposal of prunings and dead woody stems so much quicker. We can also use the shreddings as mulch to keep weeds from growing. A fantastic piece of equipment! The free, 1-2 day delivery by Garden4less was a real bonus."

Speak with a

garden

4less

expert today to find out which Bosch model is right for you.


Like This Article? Why not Share or Tweet about it.