Jamie Oliver Furniture: Contemporary Vs Classic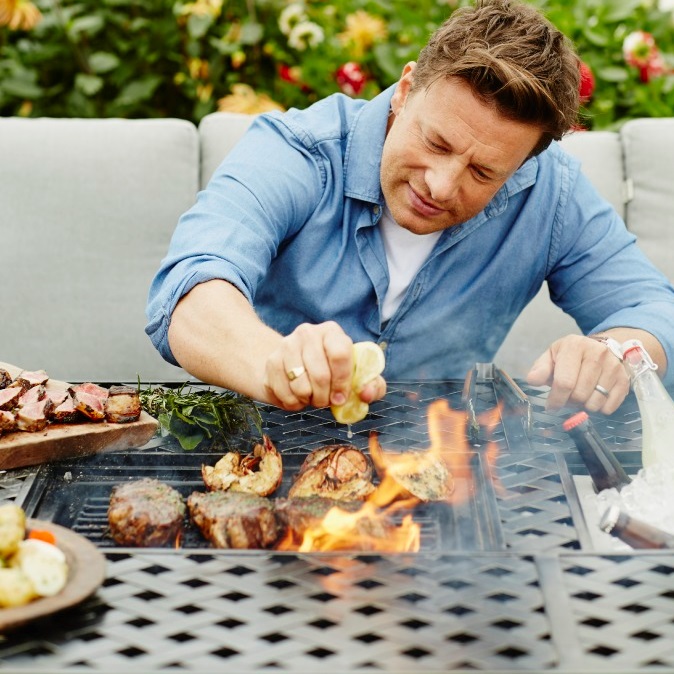 In the last few years, celebrity master chef Jamie Oliver has released a number of outdoor furniture sets. The sets were among the first available which incorporated comfortable seating with integrated cooking and barbecuing facilities. Ranging from a monolithic 'Feastable' eight-seater grilling set to the chilled out four-seater fire pit, the entire range was a hit with gardeners and barbecue lovers around the world.

Now, Jamie Oliver has given the whole range a modern facelift, and at Garden4less, we love it.

The classic frames, which are made with flowing curved lines, have been redesigned and are now available with a contemporary feel fit for even the most modern garden. The new designs have a bolder and more rigid look which shouts sophistication, standing out in the garden, but still maintaining the warming bronze or riven colours of the original designs.
Table Top Designs
The table top designs between the classic and contemporary are noticeably different. The contemporary table as a more modern look to it and was described by one customer as 'domino effect' whereas the classic table top has a rounded wave design pattern to it.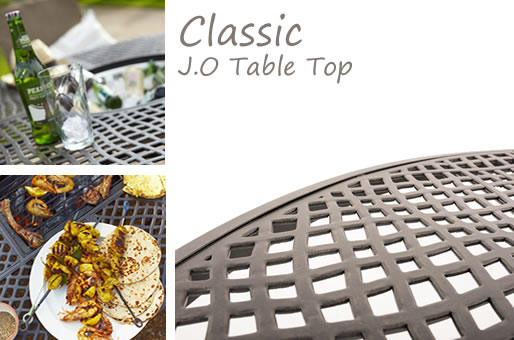 Classic Table Top
The classic design has curved waves with rounded edges. The classic is the original design that the first Jamie Oliver sets were introduced with.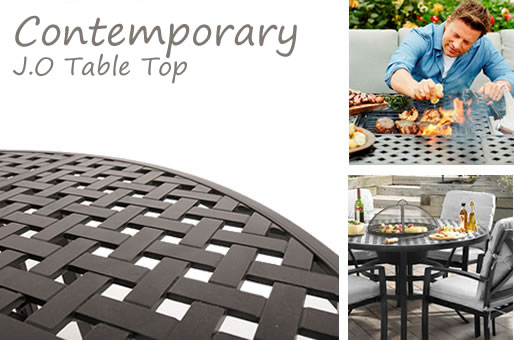 Contemporary Table Top
The contemporary table top is certainly more modern and the edges of the design are more angular and clean as opposed to the curved nature of the classic design

It is also worth noting that the Jamie Oliver Cosy Corner sets are only available in the contemporary design


As you can see in the two diagrams both designs are stunning and it is down to your own personal taste to which design suits you and your garden.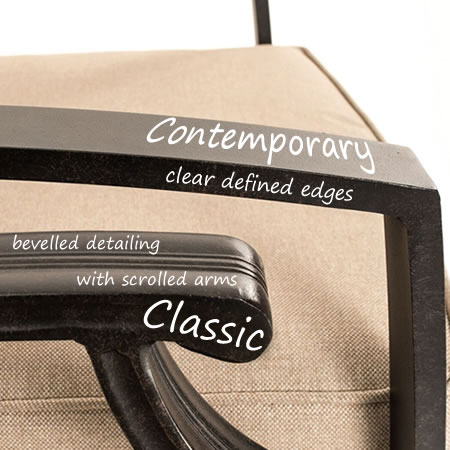 Chair Designs
One of the other significant differences between the classic and the contemporary models are the chairs.

The classic chairs taken on the same curves and flow feel as the classic table, this has been achieved with the use of scrolled arms with bevelled lines running down the center of the chair frame.

The contemporary has the fussy details removed and the design is taken right back to basics giving a clean and modern feel with its clear defined edges and shape.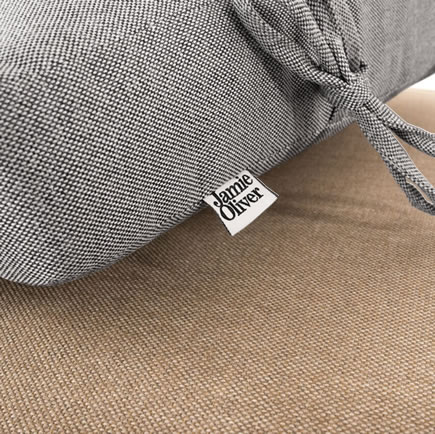 Cushion Colours
New cushions have also been added to the contemporary designs, again with bold colours, offering a bright sandy colour referred to as 'biscuit' and a new grey tone called 'pewter'. The new cushions are just as stunning as their 'nutmeg' and 'pesto' coloured predecessors and are still machine washable for the convenience of the user.

Robert Osborne, Managing Director at Garden4less, said: "The new Jamie Oliver sets look fantastic and I'm confident our customers will agree.


View Jamie Oliver Furniture.
Like This Article? Why not Share or Tweet about it.