Growing Tomatoes
Which Tomato Should I Grow?
At garden4less.co.uk we stock a wide varieties of tomato seeds, from the old standby Moneymaker to new favourites like Balconi Yellow. Whether you have a small garden, greenhouse, allotment or merely a container, we have a variety suited to your situation.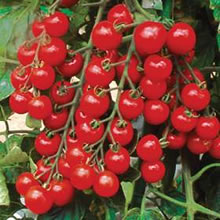 Sowing and growing
Tomato seeds can be sown from late February - March in small pots or trays. Cover the seeds with a thin layer of compost and place in a heated propagato, or on a warm windowsill to germinate. In five to 10 days your seedlings should begin to appear. When they have reached three centimetres in height, transfer the plants to individual pots - poke a small hole in the compost using a pencil and carefully drop the seedling in. Keep the pots indoors, or in our mini tomato greenhouse until the threat of frost has passed. The plants can then be moved into their final position, which will depend on the variety chosen.
At garden4less.co.uk, we have made caring for your tomatoes easy you'll find that each plant is labelled tall or 'indeterminate', bush or 'determinate', or dwarf. For the latter types little or no growing support is needed. Tall varieties, on the other hand, require staking (to prevent them collapsing when top-heavy) and pinching-out of side shoots to ensure a good crop.
So, which should I choose?
New to gardening? If you have little or no experience, try a well established tomato such as Alicante which crops heavily and produces fruit early in the season. Moneymaker is a favourite with gardeners as it can be grown both outdoors and in the greenhouse. It produces a medium-sized, tasty crop.
On the patio. If space is limited, just a couple of containers can prove surprisingly productive. Look for dwarf varieties which are compact enough to be grown in pots, tubs and window boxes. Totem F1 provides an early crop and Balconi Red produces sweet, bite-sized fruit throughout the summer.
Under glass. Black Cherry is a superb greenhouse variety, boasting purple/black skin and sweet flavour, or try Falcorosso, an organic variety with huge fruits and superb disease resistance.
Outdoors. If you don't have a greenhouse, it is still possible to grow outdoors successfully. Choose a warm, sheltered, sunny spot with fertile soil and you will be enjoying your own produce all summer.Red Alert is ideal for low-maintenance gardening, as it does not require pinching-out or additional support, just water and a little feeding.For a splash of colour, try Gold Nugget which has tiny yellow/orange fruit with a zingy taste.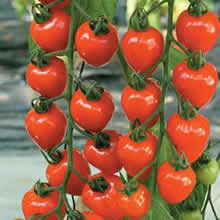 In a hanging basket For plants which are ornamental as well as edible, try Balconi Yellow which cascades over the edge of hanging baskets and looks striking when contrasted with lobelia Blue Cascade
For something unusual Tigerella tomato is a superb supermarket-sized variety which bears striped fruits a sure fire way to brighten up your plot. For novelty value and a delicious tangy flavour, try Loveheart. After the third truss, the plant produces heart-shaped fruits perfect for gifting to others!
Like This Article? Why not Share or Tweet about it.