LIFE Hawaii Lounge Sofa Garden Furniture Set - Yacht / Carbon
Product Code : C-12-1618-188FCS
Create the perfect setting for chilling out with the whole family with the LIFE Hawaii Lounge Sofa Set. You are able to adjust and customise to suit your needs with its reclining chairs and gas adjustable coffee table.

The set is made from durable synthetic weave on sturdy aluminium frames, making it weather resistant and low maintenance. The cushions included are All-Weather and can be left in place all year round.

Comes with a 5 year manufacturer's warranty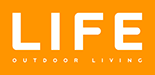 Delivery Options
- Available at Checkout
Estimated delivery
Free Delivery
Dispatched as soon as stock arrives
Product Description
Reclining weave lounge furniture set
Made from robust synthetic weave
Sturdy aluminium frame
All-weather cushions
Adjustable coffee table
Low maintenance - can be left out all year long
5 year manufacturer's warranty
Lounge Garden Furniture - Just The Way You Like It
The LIFE Hawaii Lounge Sofa Garden Furniture Set is large, comfortable and brings the comfort of the living room into the back garden. It is highly customisable to suit your needs and features a reclining sofa and chairs, as well as a gas-adjustable coffee table.

The set is made using hard-wearing synthetic resin weave that is woven on to sturdy aluminium framework. Thanks to the robust materials it is made from, this garden furniture set is low maintenance and can be left outside all year round. The set is also topped with LIFE's unique All Weather cushions which make use of an innovative design, allowing them to be kept in place all year long.

Gas-Adjustable Table
The table included with this Hawaii Lounge Sofa Set is gas-adjustable, making it a versatile addition your garden.

Adjusted by simply pumping or compressing the pedal, this table can be converted into a dining table for family meals, or lowered into a casual coffee table for evening drinks.

All-Weather Cushions
LIFE cushions have been designed to be kept in place all year round. They are not waterproof but use an innovative design which allows water to pass straight though, rather than being retained inside of the cushion.

This means that they can be left outside without fear of mould, mildew or rot setting in. As well as the micro porous filling, the cushion cases are made from high quality, UV-stabilised, woven textaline material.

Care and Maintenance
Thanks to the hardwearing materials that this set has been made from, it is easy to keep in excellent condition.

The weave is weather resistant and will generally only need a quick wipe-down at the beginning and end of the summer season. It is important to ensure that corrosive stains such as bird droppings and tree sap are cleaned off as quickly as possible.

When cleaning the weave, you should use a non-foaming soap, warm water and a sponge or cloth. Soap foam will leave behind unwanted residue when cleaning your garden furniture set.

The cushions should also be cleaned with warm water and non-foaming soap when required. The cases have zips and can be hand-washed at temperatures of up to 30ºC. This will not affect the All Weather properties of the cushion.

Additional Information
Components:
1 x 3 Seat Adjustable Sofa
2 x Adjustable Armchair
1 x Adjustable Coffee Table
1 x Pouffe
1 x Small Stool

Dimensions:
Adjustable 3 Seat Sofa: Height 90 x Width 199 x Depth 82cm
Adjustable Armchair: Height 90 x Width 72 x Depth 82cm
Adjustable Coffee Table: Height 40/52/60 x Width 130 x Depth 74cm
Pouffe: Height 44 x Width 60 x Depth 60cm
Small Stool: Height 46 x Width 39 x Depth 39cm

Warranty:
This garden furniture set comes with a 5 year manufacturer's warranty