Muck Boot - Woodymax - Camoflage UK 12
Product Code : MB-WDMX-UK12 Barcode : 664911057906
Brilliant all round wellington
The Muck Woody Max offers a fantastic all round boot, suitable for walking and light work. A protective rubber to the exterior gives abrasion resistance while remaining flexible with every step. The interior utilizes 5mm's of neoprene lining layered with mesh to improve air circulation. The all-new rubber cup outsole will give superior shock absorption with excellent grip on wet concrete floors or uneven surfaces, while providing comfort when standing for long periods of time.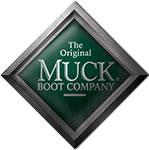 Product Description
Stretch fit rim hugs the leg to keep warmth in
Made from 5mm waterproof Neoprene fabric
Thermal foam underlay added to instep
Steel reinforced shank offers safety and support
Mid-height Rubber overlay for extra protection
Comfortable and Long Lasting
Made for comfort, the Woody max boot offers all the features that you would expect from Muck Boots, with the addition of a trainer-style sole, opposed to that of a traditional boot. This provides added comfort, especially when worn over a prolonged period of time.
The boots are especially good for long muddy walks, but are more than suitable as working boots too with a number of features which have been incorporated into the designs.
Boot Benefits
The Woody max boots feature a rubber coating which is slightly higher than other designs, making them perfect for slogging through the mud and dirt and still being easy to clean up afterwards.
An anti clog sole combined with reinforced rubber toe caps and insteps make them fantastic all-round boots. Each pair benefits from removeable Nitrocel footbeds, anti shock heels, rubber achilles protectors and Air mesh lining.
Warranty Information
Customers who have purchased Muck Boots that fall under the Manufacturer's warranty should send the items back to Garden4Less via the return address provided.

Warranty Outline
The Original Muck Boot Company®, a Honeywell Company, warrants to the original end customer, that its footwear will be free from defects in materials and workmanship for a period of one year from the date of purchase by the original end customer. For warranty questions, please contact the MuckBoot Customer Care team on 02034 811333.

Exclusions
This Limited Warranty does not cover any damage arising from normal wear and tear, failure to adequately maintain and store the footwear, unauthorized alterations, repairs or modifications not performed by The Original Muck Boot Company®, footwear used other than in the manner intended, improper or inadequate fit, use of a safety boot after such boot has sustained damage rendering unsafe for use in the environment for which it was designed, damage caused by chemical or foreign substances. The Original Muck Boot Company does not warrant any of its footwear provides protection from bites from wildlife and is not liable for personal injury resulting from such bites.