Muck Boots Fieldblazer Classic Fleece Tall Boots - Brown/RTE Camo - UK 14
Product Code : 31843-54506-12 Barcode : 664911099616
Black Tag Event Now On!
Flexible and breathable boot
The Muck Boot Fieldblazer Wellington is the ideal boot for the countryside, with a waterproof outer and neoprene lining, for comfort and performance.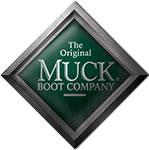 Product Description
Muck Boot Fieldblazer Wellingtons
Camo/Brown colourway
Waterproof
Fully lined with 5mm neoprene
Breathable air mesh lining
Aggressive waffle high-traction outsole
Reinforced Achilles support
Mid-height with pull-tab for easy on and off
Versatile, general purpose outsole
The Muck Boot Fieldblazer Wellington has been refreshed with a new Blaze Orange lining that provides high visibility while in the woods, for additional safety.

100% waterproof, this boot is fully lined with 5mm neoprene for flexibility and has a breathable air mesh lining, with Nzyme antimicrobial treatment for odour control.

Warranty Information
Customers who have purchased Muck Boots that fall under the Manufacturer's warranty should send the items back to Garden4Less via the return address provided.

Warranty Outline
The Original Muck Boot Company®, a Honeywell Company, warrants to the original end customer, that its footwear will be free from defects in materials and workmanship for a period of one year from the date of purchase by the original end customer. For warranty questions, please contact the MuckBoot Customer Care team on 02034 811333.

Exclusions
This Limited Warranty does not cover any damage arising from normal wear and tear, failure to adequately maintain and store the footwear, unauthorized alterations, repairs or modifications not performed by The Original Muck Boot Company®, footwear used other than in the manner intended, improper or inadequate fit, use of a safety boot after such boot has sustained damage rendering unsafe for use in the environment for which it was designed, damage caused by chemical or foreign substances. The Original Muck Boot Company does not warrant any of its footwear provides protection from bites from wildlife and is not liable for personal injury resulting from such bites.