Why Choose Cast Aluminium Furniture?
Written on 30/11/2015 at 10:11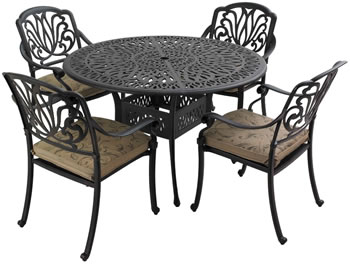 Many ranges of furniture available at Garden4Less.co.uk are made from Cast Aluminium, and it's no accident.

Wood is known to become weak, often rotting over time if left unprotected. Iron is prone to rusting quickly. Plastic can sometimes lack in strength. Cast aluminium, however, is one of the best materials available for outdoor furnishings because it has the best features of all three.

Unlike cast iron ranges, aluminium designs will not rust or weather, meaning there is no risk in leaving it outside all year round. Being metal, it is naturally stronger than its plastic competitors. It's also lighter than the iron and wooden ranges, so if for any reason you do wish to store it in a shed or garage, you won't put your back out in the process.

The only time your furniture may weather is if it gets chipped or damaged in some way. The exposed metal can react to pollutants in the air. It won't rust, but instead, it can discolour and develop a rough or pitted surface. This is caused by tiny amounts of oxide that will appear on the exterior, which then acts as a protective layer, stopping further weathering. This quality makes cast aluminium a great choice for patio furniture, as it will last for years to come.


Cleaning Cast Aluminium
Avoid using a high powered pressure washer on their furniture. This is not recommended because it can strip the coated finish off the metal and increase the risk of the surfaces becoming pitted. Instead, use some warm soapy water and a sponge to wipe down the furnishings and then lightly hose it down afterwards. Adding a small amount of white vinegar or lemon juice to the soapy water will make it slightly acidic, and this can help with cleaning. Do not use soda or other alkaline based products.

If the surface does become pitted, using some unused steel wool instead of a sponge can help. Just be sure to remove any strands of the wool that break off any stick to the furniture, as these will rust and the colour of the rust can run onto the furniture. Afterwards, lightly cover the aluminium with a silicone spray for an added layer of protection. If small chips appear, dabbing on a couple of layers of black nail polish can often save you from having any problems.


Like This Article? Why not Share or Tweet about it.