Self-propelled lawn-mowers: Pros and Cons.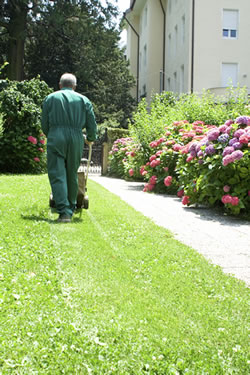 Self-propelled lawnmowers: Pros and Cons
Many lawnmowers in the current day and age are self-propelled, meaning they take all of the hard work of out mowing the lawn. There's no need to push, you just simply walk behind the mower and steer where necessary. There a number of pros to self-propelled mowers that vastly outweigh the cons, it's just all about making sure you have the right lawnmower for your needs.
Things to Consider
- Size of my garden.

- Shape and layout of my garden.

- Suitability for the user.

- Cordless or mains-powered.

- Additional features.


Benefits:
As mentioned, one of the great things about the self-propelled mowers is the lack of pushing involved, especially for larger gardens or ones that are on an inclined slope - nobody wants to trudge a lawn mower up and down a hill. What many fail to realise is that the self-propelling motion means that the cut will have a smoother and more even finish due to the lack of stopping, starting, pushing and pulling. With a battery powered self-propelled mower, this is improved upon again because there isn't a wire being dragged through the lawn.

With a conventional mower, you don't benefit from the above features, but you do have a little more control over the speed, when to stop and when to start. Cornering or mowing oddly shaped spaces can occasionally be easier with a standard push mower too, as you don't have to fight against the drive of the wheels.


Suitability:
Generally, the best suited gardens for self propelled mowers are those with large or square-shaped spaces, or if the garden is located on a sloping plane. A self-propelled mower can also be a fantastic tool for an elderly person, as the self-propelled motion will take the strain out of pushing. However, for those who are a little unsteady on their feet, it can sometimes be a better idea to use a push-style lawnmower with which they will have greater control over the movement speed.


Recommended:
If you're looking for a top quality self-propelled lawnmower,

garden

4less

recommends the Cobra 18" Cordless lawnmower. Not only does the Cobra tick all boxes of a good self-propelled lawnmower, its four-wheel drive motor makes it especially good for uphill gardens. The Cobra also doubles as a mulcher if desired, allowing the user to choose between having the clippings to be deposited into a collection bin or cut finely and then lightly dispersed back into the lawn, improving the quality of the soil underneath. It is lightweight and cordless, making it a great choice for domestic use.

More information about the cordless Cobra Lawnmower can be found here.

If you're still unsure of which type of lawnmower is best-suited to your needs, call 01283 543974 to speak with a

garden

4less

expert today.
Like This Article? Why not Share or Tweet about it.