What size chimenea will I require?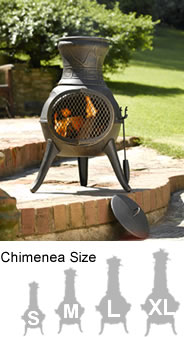 At garden4less.co.uk we stock a number of different sizes of garden chimeneas ranging from small to extra large, so we have a chimenea for all sizes of gardens and patios.
The price, weight and heat output of a chimenea will, not surprisingly, increase with the size. Therefore, the general rule is the larger the chimenea the greater the heat output as fundamentally, more fuel equals more heat. As a result, the larger the chimenea the greater the heating capabilities.
When making your decision on the size of chimenea you will require, it is important to consider that, generally, clay chimeneas have better burning characteristics than their cast iron counterparts. So, consequently, they will provide a more constant and superior heat source to a cast iron chimenea of a similar size.
At garden4less we recommend that you order a chimenea that fits in with the size of the area that you require heating. depending on the size of the fire you are burning and the type of fuel chimeneas will omit a heat an area of approximately two meters in diameter. If you have a larger patio or area that requires heating it is possible to use two chimeneas sited at opposite ends of the area you are heating.
Like This Article? Why not Share or Tweet about it.