Life Anabel Sun lounger in Lava / Mist
Product Code : 14-0040-205/R282F
Black Tag Event, Now On!
Brief Description
The Life Anabel Sun lounger is the perfect accessory to your garden and matches a lot of the other Life sets.

With multiple reclining levels and movable arm rests, you can relax however suits you. The handy wheels also allow you to easily move it around your garden to get a good mixture of shade and sun.

It comes with a 5 year manufacturer warranty.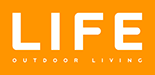 Delivery Options
- Available at Checkout
Estimated delivery
Free Delivery
2-3 Working Days
Product Description
Life Anabel Sun Lounger
Hard wearing aluminium frame
Reclining back
Movable arm rests
Wheels for easy repositioning
Lava/Mist colourway
5 year manufacturer warranty
Comfortable and Stylish
The Anabel Sun Lounger is a great addition to your garden and with it's contemporary design, it also goes well with other sets as the aluminium frame has a popular lava coloured coating.

Being made from aluminium, it's light to move around your garden, made easier by the handy back wheels. It's also rustproof and weather resistant, so can be left outside all year round. It also benefits from having movable armrests that can be folded next to the lounger when not in use.

The Mist coloured cushions are soft and durable and can be left out all summer season due to their quick dry micro-porous material. We recommend to bring them inside during the rest of the year to help prolong their life.


Care and Maintenance
Textilene covers with fast dry foam

This outdoor furniture features Textilene cushion covers filled with Fast Dry Foam - these cushions can be left outdoors throughout the entire season. Textilene is a high quality synthetic product (high strength polyester with PVC compound) perfect for outdoor use due to its UV resistance, comfort and ease of cleaning. Fast Dry Foam has a very open cell structure that drains water quickly and provides circulation of air, drying the foam relatively quickly.

In practice this means that when it rains the Textilene cushion cover is designed to let water through into the inner cushion (the fast dry foam filling). By pressing down on the cushion or placing the cushions on their sides, the cushions will be dry in a relatively short period of time. For these cushions it is therefore important to note that the cushions are best left outside to dry completely - storing wet cushions in an environment with no air circulation (such as an airtight container) can cause the inner foam to become mouldy or soft.

To clean the inner fast dry foam - remove the cushion cover and clean the inner cushion using a mild detergent. The outer cover can be cleaned at 30 degrees in the washing machine, with a small amount of laundry detergent. Only wash one cover at a time.

Aluminium Care

In order to keep your furniture attractive, it is advisable to occasionally treat the aluminium with a protector, so dirt doesn't easily adhere to the material. Frequently clean it with a damp cloth to keep the aluminium attractive.


Components
This set comes with:
1 x Anabel Sun Lounger

Dimensions
Height: 35 x Width: 201 x Depth: 76cm