Sandwick Winawood 2 Seater Wood Effect Love Seat - Stone Grey
Product Code : WINSANLS/SG Barcode : 5056146212113
Secure with a deposit!
Just A £30 Deposit Required
Zero Maintenance Wood Grain Effect
Brief Description
The Sandwick Winawood 2 Seater Wood Effect Love Seat would make a great addition to any garden, patio or outdoor space. The 'Love Seat', in attractive Stone Grey, includes two chairs, adjoined by a connecting table with room for a parasol if desired.

Thanks to the polymer material, you will never need to paint, stain or cover your chairs again. All that is needed to keep it looking like new is a quick wipe down every now and then.

It comes with a 2 year manufacturer warranty.

Dimensions: Length 172cm x Depth 72cm x Height 93.3cm
Delivery Options
- Available at Checkout
Free Delivery
Delivered March 2024
Product Description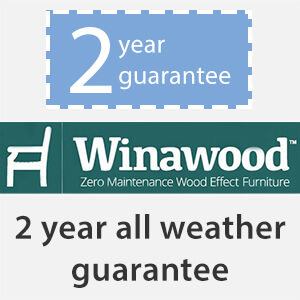 Sandwick Winawood 2 Seater Wood Effect Love Seat
Fully weatherproof
No treatment required
Easy to assemble
UV protected
Slot for parasol
Fully recyclable
Stone grey painted wood grain effect finish
2 year manufacturer warranty
Authentic Painted Wood Effect
The Sandwick Winawood 2 Seater Wood Effect Love Seat would make a great addition to any garden, patio or outdoor space. This amazing 'Love Seat' includes two chairs, adjoined by a connecting table with room for a parasol if desired, all in an attractive stone grey colourway. The set has been constructed from hard-wearing plastic, giving it low-maintenance characteristics while still having a charming wood grain effect.

Thanks to the polymer material, you will never need to sand, paint, stain or cover your chairs again. All that is needed to keep them looking like new is a quick wipe down every now and then.

With its quaint look and robust qualities, we are confident that you will love the Winawood Love Seat for years to come.
Warranty
The product includes a 2 year manufacturer's warranty.
This protects the bench against any manufacture defects or weathering caused within the first 24 months of purchase.
Dimensions:
Length
172cm x
Depth
77cm x
Height
93.5cm
Weight:
37kg
The Winawood Brand
Key Features:
Made from 15% Recycled Materials

Fully Recyclable

No Treatment Required

3 Year Warranty

Suitable For All Weather (including frost)

Virtually maintenance free. Just clean with water to restore to its original appearance

UV resistant (won't fade over time)

Protected against distorting & warping

Easily assembled


Just like real wood, the colour runs all the way through the bench as it is encased in the polymer material. You can sand layers off and still have the same, great colour underneath. Each bench comes with a small sanding block for easy maintenance as well as a 3 year manufacturer guarantee.
Made from new and recycled polymer materials, they are very low maintenance and will last year on year. They also use the latest manufacturing techniques to be able to provide a natural wood grain effect to all their products, making the wood look more effective.
It's protected against warping and distorting as well as being suitable for all weather. This means that it can be left outside, even in snow and frost, without worry that it will get damaged. Constant sun exposure won't fade the colour as it's UV resistant.
Questions and answers
(1 questions & 1 answers)
Product Reviews
Sandwick Winawood 2 Seater Wood Effect Love Seat - Stone Grey
Overall rating 100% from 3 reviews