AL-KO Electric Combi Care Comfort Lawn Scarifier - 38E
Product Code : 112910 Barcode : 4003718042245
Dual Function Machine - Scarifier and Aerator
You only have to read the reviews on the AL-KO 38E Combi Care Comfort Scarifier to know that it's a great, versatile tool.

If you're looking to rake out thatch and moss and give your lawn a bit of intensive care, this is the machine for you. The AL-KO has an interchangeable roller that can be switched, without the need for tools, between a lawnrake roller with spring tines and a scarifier roller with steel blades.

Order now and you could be taking care of your lawn as early as tomorrow.

2 Year Manufacturer's Warranty Included
Delivery Options
- Available at Checkout
Estimated delivery
Free Delivery
2-7 Working Days
£5
Delivery Wednesday, 29 June
Order before 13:00 tomorrow!
£5
Specified Delivery Date
Product Description
Dual function for lawnrake and scarifier
Tool-free changing of blades
Adjustable working depth for optimum effect
Adjustable Handles can be folded for storage
2 year manufacturer's warranty inlcuded
Two Tools in One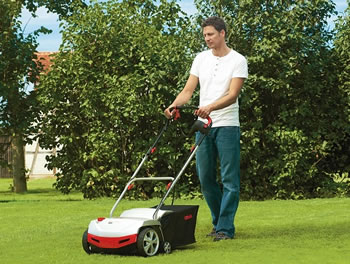 The AL-KO 38E Combi Care Comfort Scarifier is almost guaranteed to give you great looking and green lawns. Dual purpose lawnrake or scarifier drums mean that you can easily change the function of the machine to suit the job in hand.
Whether raking out thatch and moss or for intensive care, scarifying the lawn becomes easy with this durable machine.
The roller change does not require tools, so it is simple to change from the scarifier roller with 3-stage steel blades to the lawnrake roller with efficient steel spring tines - complete lawn care in one machine.
Both rollers and the collection box are included.
Changing the Blade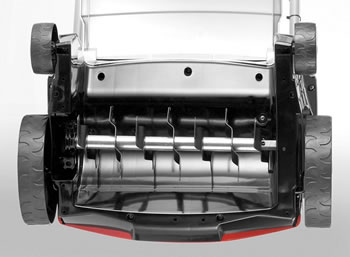 One of the key benefits of this machine is how easy it is to switch from one blade to the other. Switching from one roller to the other requires no tools and can take less than a minute. Simply remove a screw by hand, no screwdriver, flip up a catch, remove one roller and reverse the process to install the other roller.
Setting the Working Depth
Select one of the five working depths with the use of a simple dial on the top of the machine. It is important to get the correct working depth so that the blades are just touching the ground.
Working Height
The handle bars can be adjusted so that you are working at a height that is comfortable for you. The bars can also be folded down for storage.
Al-ko 38E Specification
ALKO 38E Specification
Article Number
112910
Working Width (lawnraking)
37 cm
Working Width (scarifying)
38 cm
Box Volume in Litres
55 l
Power in Watts
1,300
Lawn Rake
24 Steel Spring Tines
Cutter Deck
Plastic PP
For Lawns (in m²)
800
Depth Adjustment
Central, 5-stage
Scarifier
14 Steel Blades
Weight in kg approx
14
Lost your user manual? Don't worry, you can download a digital copy here.

Product Reviews
AL-KO Electric Combi Care Comfort Lawn Scarifier - 38E
Overall rating 93.1% from 26 reviews