Bosch Advanced HedgeCut 65 Electric Hedge Trimmer
Product Code : 06008C0870
Perfect for trimming large hedges and stubborn branches
The corded Bosch Advanced HedgeCut 65 Electric Hedge Trimmer is perfect for trimming large hedges and stubborn branches with quiet ease, such as conifer, laurel, English yew, and beech.

Delivery Options
- Available at Checkout
Estimated delivery
Free Delivery
2-7 Working Days
Product Description
Bosch Advanced HedgeCut 65 Electric Hedge Trimmer
ProSilence enables a powerful performance with 80% noise reduction 93 dB(A)
65-cm blade length and 34-mm tooth spacing design for heavy trimming work
High-torque slipping clutch (50-70 Nm) enables easy cutting through thick branches
Perfect for trimming medium to large hedges
High-performance 500 W motor and high cutting power for fast results
The corded Bosch Advanced HedgeCut 65 Electric Hedge Trimmer is perfect for trimming large hedges and stubborn branches with quiet ease.

Encased in the ProSilence 93dB sound-dampening shell is an energy-efficient 500W motor, delivering a powerful performance with a reduced energy demand that is designed to be substantially quieter than other hedgecutters.

A high-torque slipping clutch enables cutting through thicker branches with ease and without damage to the motor. Its 65-cm-long, laser-cut, diamond-ground blades with a 34-mm tooth opening cut effortlessly through branches up to 34 mm wide for fast and impressive results.

This hedgecutter is ideal for trimming conifer, laurel, English yew, beech, holly, hornbeam, leylandii, and viburnum hedges.


Additional Information
Motor power: 500W
Blade length: 65cm
Tooth opening: 34mm
Slipping clutch torque: 60Nm
No-load stroke rate: 3.400spm
Weight: 4.0kg

The Bosch Brand
Ever since being founded in the 1800s, Bosch has been a leader in the tools trade with its innovative product designs. Every step made by the market giant has been one in the right direction, with each new design being better than the last. Two generations on, the resulting tools, whether they are lawnmowers or hedge-trimmers, are at the pinnacle of the trade industry and readily available to everybody with a job to be done.
Known for placing the customer at the forefront of every design, Bosch produces tools that are durable, affordable and easy to use and maintain. With a Bosch tool, gardening is no longer a chore, it becomes a hobby, and with the wealth of available products at your fingertips, there is nothing that is unachievable.
Ask a garden4less expert about which tool is best suited to your needs today.
Warranty Information
The Bosch Warranty Period
Bosch now provide an Extended 3 Year Warranty on their garden tools, when registered at www.MyBosh-Tools.com within 28 days of purchase. Any unregeistered garden tool keeps its limited 2 year warranty.

Both warranty periods only apply to tools that are being used for domestic purposes and excludes batteries and chargers, which come with a 12 month warranty. During the warranty period the collection and return of your tool will be free of charge.
How To Claim
Bosch require proof of purchase for the product in order to make a warranty claim, the original invoice sent out with the goods will be sufficient for this. If this has been misplaced then we will happily provide a copy via email.

In order to make a claim under this guarantee you are required to either:
Use the repair collection service tool provided by submitting an online colleaction request on Bosch's Repair Service Page.

or

Submit in writing to bosch.servicecentre@uk.bosch.com the defect with the product, together with proof of purchase.

or

Phone the Bosch after sales service on 03447 360109 who will be happy to arrange and explain the warranty claim process.
Bosch's 5 Day Service Commitment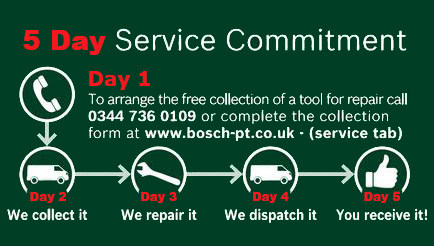 Bosch know how much of an inconvenience it is if your machine breaks down, so they commit to getting your machine back to you in 5 days.

Day 1: Collection gets arranged
Day 2: Picked up from you
Day 3: The unit is repaired
Day 4: Dispatched back to you
Day 5: You receive it back!

Full Warranty Details
The most up to date warranty information and full conditions can be found on Bosch's garden tools warranty page.
We're always happy to help
Don't forget that garden4less are always here to help, so please contact us if you have any difficulties with the warranty process with one of our orders.
Product Reviews
Bosch Advanced HedgeCut 65 Electric Hedge Trimmer
Overall rating 80% from 1 reviews