Hartman Apollo Square Corner Sofa Set with Adjustable Table in Carbon/Pewter
Product Code : 63415006-AC Barcode : 8711268622997
End of Summer Sale Now On!
Stunning corner sofa set
The Hartman Apollo Square Corner Sofa Set provides a luxurious and spacious place to unwind with family and friends. Featuring Weatherready cushions and a rust free aluminium frame, it comes in a contemporary carbon/pewter colourway.

It comes with a 3 year manufacturer warranty.
Delivery Options
- Available at Checkout
Estimated delivery
Free Delivery
2-7 Working Days
Product Description
Hartman Apollo Square Corner Sofa Set
Carbon/Pewter colourway
Gas Adjustable Table
Aluminium frame
Weatherready cushions
3 year manufacturer warranty
The Hartman Apollo Square Corner Sofa Set is the ultimate lounging set. Gather your friends and loved ones round and relax on its thick cushions. The set can comfortably seat around 7 guests, with a spacious corner unit and 2 cushioned benches, along with an adjustable height coffee table.

The set is presented in a lovely carbon/pewter colourway and is made from a strong aluminium frame, with permeable Weatherready cushions that can be left outside all summer long.


Weatherready Cushions
This Hartman garden furniture set comes complete with innovative Weatherready cushions. Manufactured using special microfibre all-weather fabric, these cushions will repel water during light showers, and let water flow straight through them in heavier downpours.

They utilise a clever system of perforated material wrapped around rapid-dry foam, allowing water to permeate through the cushion and then dry naturally - no harm done. As well as being stylish and comfortable, these cushions are also moisture, mildew and UV resistant. They can be stored outside all summer long, ready to be used quickly and conveniently, as and when they're needed.

Care and Maintenance
This Hartman garden furniture is made from robust materials so doesn't require much maintenance to keep it looking its best. To clean, simply use a cloth or sponge and some warm soapy water. It is advisable to use non-foaming soap as this will not leave behind residue which could attract dirt.

The cushions are Weatherready so can be left on the furniture during spells of bad weather. While these cushions can be left outside all year round, we would recommend storing them somewhere dry in the winter months. In the event of spillages or stains, wipe with a cloth and warm, soapy water.

Additional Information
This set comes with:
1x Apollo Square Adjustable Height Coffee Table
1x Apollo Corner Seating Unit
2x Apollo 2 Seat Bench

Dimensions:
Apollo Square Adjustable Height Coffee Table: Height 55/68 Length 105 Width 105cm
Apollo RH and LH 2 Seat Sofa: Height 80 Width 148 Depth 88cm
Apollo Corner Sofa Unit: Height 80 Width 88 Depth 88cm
Apollo 2 Seat Bench: Height 30 Width 100 Depth 40cm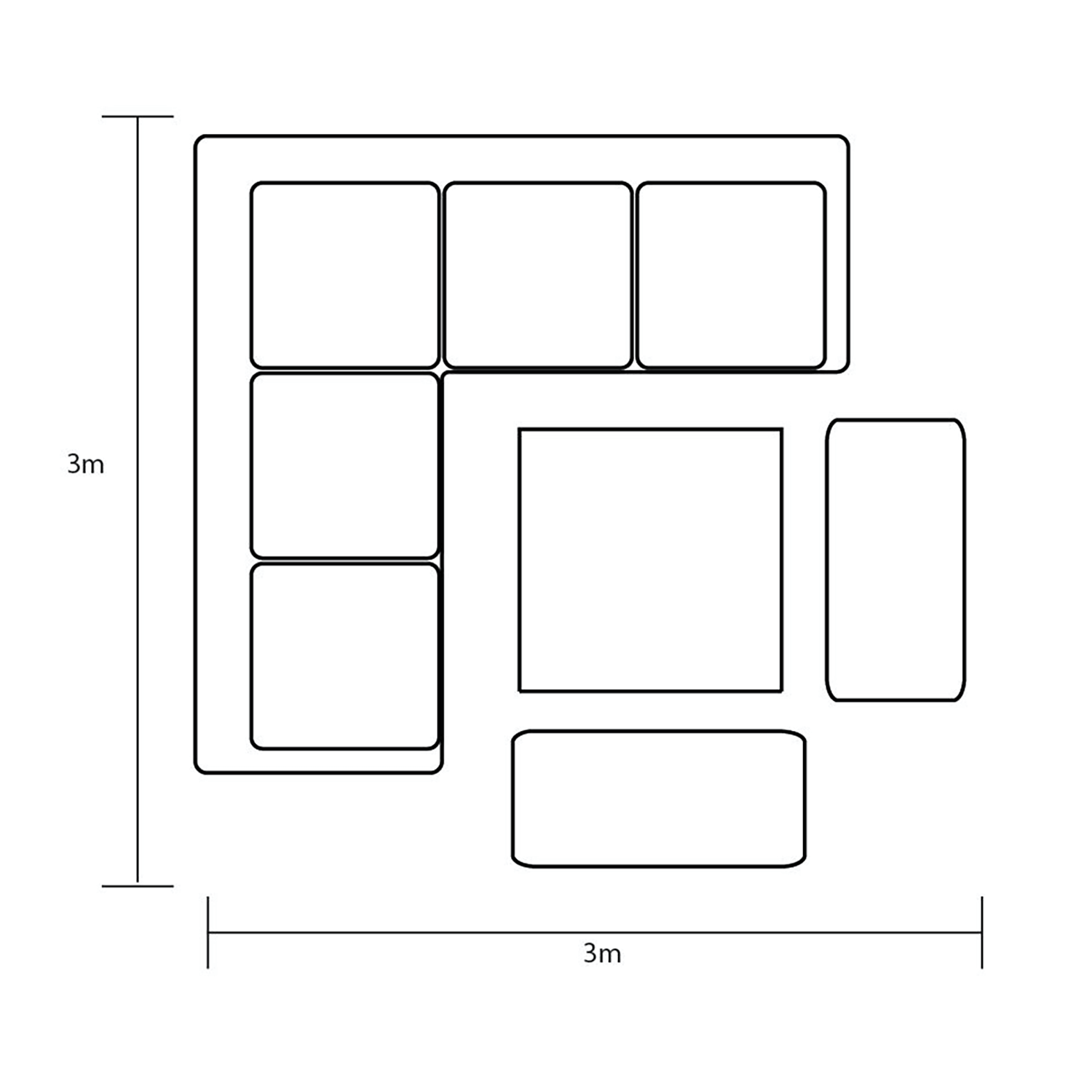 Questions and answers
(1 questions & 1 answers)