Hozelock Easyclear 4500 Pump & Filter with 7w UVC
Product Code : 1762 Barcode : 5010646056496
Black Tag Event, Now On!
Brief Description
The Hozelock Easyclear 4500 all-in-one kit is a simple way to keep your pond healthy. This fully integrated kit consists of a pump, filter and UVC unit, everything needed for essential pond upkeep.

The foam filters built in to this system remove all unwanted particles and small debris from the water, keeping it crystal clear. As well as this, the UVC unit causes algae to clump together, making it easier for the filters to remove it from the water.

This system can also be used as a fountain or waterfall which, as well as keeping the water moving and preventing it from turning stagnant, is sure to add some serenity to the back garden, perfect for creating a relaxing environment.
Delivery Options
- Available at Checkout
Estimated delivery
Free Delivery
2-3 Working Days
Product Description
All-in-one pump, filter and UVC
Max pond size of 4500L
7w UVC bulb
Works as fountain water feature
Easy installation
Hozelock clear water guarantee
Fantastic All-In-One Pond Kit

The Hozelock EasyClear 4500 is an all-in-one pump, filter and UVC kit, which will make keeping your pond healthy simple and easy.

The efficient pump has been built to last and comes with attachments which allow it be used as a fountain or waterfall. The UVC unit causes algae particles in the water to clump, allowing them to be easily filtered out by the foam filters. Aside from algae, the foam filters will also filter out any other unwanted particles and smaller debris, which will help to keep the pond water completely clear.

As well as this, this pump also includes a Kaldnes biomedia chamber, which promotes the growth of bacteria that are beneficial to the pond's health and ecosystem.


Wonderful Water Feature
As well as being an efficient and effective pump, filter and UVC, the Hozelock Easyclear can also be used as a fountain or waterfall, bringing a touch of tranquillity to your back garden. All of the models in the Hozelock EasyClear range are able to be used in this way, however, while the 3000 and 4500 can run a fountain or a waterfall separately, the 6000, 7500 and 9000 models can run both at the same time.

Which Size Is Right For My Pond?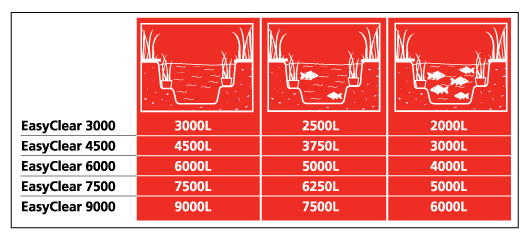 The Hozelock EasyClear all-in-one is available in 5 different sizes; 3000, 4500, 6000, 7500 and 9000. If you aren't sure exactly how large your pond is, we have a free pond size calculator and guide (coming soon) which you can use to help determine which size pump and filter you will need to keep your pond in great shape.

The sizes are based on ponds without any fish, so please bare this in mind when selecting a pump/filtration system that is right for you. Please take a look at the chart for a better idea of which size EasyClear is right for your pond.

More Information
Performance Data:
| Model | Max Flow | Max Fountain Height | Bell Jet Diameter | Waterfall Width | Waterfall Height |
| --- | --- | --- | --- | --- | --- |
| 3000 | 1260LPH (277GPH) | 0.7m | 0.4m | 0.08m | 0.5m |
| 4500 | 1260LPH (277GPH) | 0.7m | 0.4m | 0.08m | 0.5m |
| 6000 | 1700LPH (374GPH) | 1.6m | 0.6m | 0.13m | 0.6m |
| 7500 | 1700LPH (374GPH) | 1.6m | 0.6m | 0.13m | 0.6m |
| 9000 | 2850LPH (627GPH) | 1.9m | 0.7m | 0.25m | 0.9m |
Technical Data:
| Model | Watts | Cable Length | UV Lamp | Max Fish | Max Litres |
| --- | --- | --- | --- | --- | --- |
| 3000 | 25w - 230v | 10m | 5w | 0.72m | 3000LTR (660GALS) |
| 4500 | 28w - 230v | 10m | 7w | 1.08m | 4500LTR (990GALS) |
| 6000 | 40w - 230v | 10m | 9w | 1.44m | 6000LTR (1320GALS) |
| 7500 | 43w - 230v | 10m | 11w | 1.80m | 7500LTR (1650GALS) |
| 9000 | 55w - 230v | 10m | 13w | 2.16m | 9000LTR (1980GALS) |
Questions and answers
(1 questions & 1 answers)
Product Reviews
Hozelock Easyclear 4500 Pump & Filter with 7w UVC
Overall rating 100% from 2 reviews