Hozelock Patio Pond Aquarium
Product Code : 3085 Barcode : 5010646059619
Black Tag Event Now On!
Transform your garden in 30 minutes
Single person assembly
Quick and easy installation with no digging or construction skills required
The revolutionary twist & lock system eliminates the need for tools
Side viewing ports allow you to enjoy the fish in their natural environment
A convenient and modern solution to a traditional pond; perfect for all outdoor spaces

Delivery Options
- Available at Checkout
Estimated delivery
Free Delivery
2-7 Working Days
Product Description
Create a stunning water feature in your garden with the NEW Hozelock Patio Pond Aquarium.

This above-ground pond is a fantastic, modern solution to a traditional pond and is perfect for your decking, patio or smaller outdoor spaces.

Installation is convenient and easy to complete in around 30 minutes with no digging or construction expertise required. The simple twist & lock system eliminates all requirements for tools whilst the decorative panels simply slot into place.

The highly durable side viewing windows allow you to observe the fish from a natural perspective in an ideal environment for fish keeping.

The pond is designed for a maximum of 6-8 fish. Introduce 2-3 fish first (they should be around 4inch in length) and once they have settled, then you can introduce more, to a maximum of 6-8 fish. The fish will grow, and over stocking will stress your fish.

Dimensions
(W) 950mm x (D) 950mm x (H) 700mm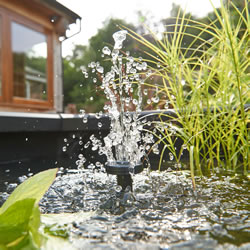 Why not extend and enhance the enjoyment of your Aquarium with the addition of a fountain using the award winning Hozelock EasyClear pump? The EasyClear pump is simply and easy to install and will create a tranquil water feature in your already stylish patio pond.

Questions and answers
(4 questions & 4 answers)
Product Reviews
Hozelock Patio Pond Aquarium
Overall rating 100% from 4 reviews