EX-DISPLAY / COLLECTION ONLY - LIFE Timber Aluminium Corner Sofa Set with extension in Lava / Carbon
Product Code : LIFE/TIM/LC-SHOWROOM
Black Tag Event, Now On!
This item has been assembled and is available for collection only
Brief Description
This item is Ex-display, meaning it has been assembled and is available for collection only.
Ex-display goods will have wear from showroom use. Some sets may have faults, please call us on 01283 543 974 for more information and details.
Viewing in our midlands showroom is recommended before purchase and local delivery can be quoted for.
Made from robust materials, the LIFE Timber Aluminium Corner Furniture Set is a stunning, contemporary set that can be left out all year round, with soft durable cushions that can be kept in place all summer season.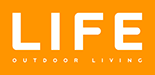 Delivery Options
- Available at Checkout
Product Description
LIFE Timber Aluminium Corner Furniture Set
Made from robust aluminium
High table with black spraystone top
Topped with all-weather cushions
Amazing Aluminium Furniture Set
This LIFE Timber Corner Furniture Set is stylish and robust. Although named 'Timber', this set is actually made from aluminium, and consists of a corner seating unit and high table with black spraystone top. It is an exceptional set for creating a relaxed setting for socialising and chilling out.

Being made from aluminium means that this set is very low maintenance and can be left outside all year round. The frames will not rust and the cushions are all-weather so can be kept in place all summer season.

LIFE All-Weather Cushions
LIFE All-Weather Cushions can be left outdoors throughout the entire season. These cushions are produced from high-quality synthetic products - when it rains the water goes through the cushion cover and into the microporous inner cushion. By pressing down on the cushions or placing the cushions on their edges, they will be dry in a relatively short period of time. Although the cushions are All Weather, to keep them clean and prolong their life, we suggest covering them when not in use and storing indoors for the winter months.

Stains can be removed by cleaning with a non-foaming cleaner for open-woven fabrics and wicker. For more stubborn stains, the outer cover can be cleaned at 30 degrees in the washing machine, with a small amount of laundry detergent. It is best to wash one cover at a time.

Before cushions are bagged and stored for the winter months, or a protection cover is placed over furniture with cushions, please ensure that the cushions are completely dry.


Care and Maintenance
Made from aluminium, this set is practically maintenance free and only requires a small amount of attention to keep it looking its best. It does not need to be covered when not in use, as aluminium is weather resistant.

Although it won't rust, aluminium does oxidise over time which will result in discolouration. To remedy this, the aluminium should be washed with warm soapy water. It is also good to use a gentle acid such as lemon or vinegar - however, alkaline products such as ammonia or soda should never be used to clean your aluminium garden furniture.

Do not use a pressure washer to clean your furniture as it may cause damage ..

The cushions should be cleaned with warm water and non-foaming soap when required. The cases have zips and can be hand-washed at temperatures of up to 30ºC. This will not affect the All Weather properties of the cushion.

Components & Dimensions
This set comes with:
1x - Timber Corner Seating Unit
1x - Timber Coffee Table

PLEASE NOTE: Armchair, half-pouffe and extension not included but can be purchased separately as an optional extra.

Dimensions:
Timber Adjustable Coffee Table: Height 48-74 x Width 140 x Depth 75cm

Individual Components:
Timber Left Extension (with CORNER) 90cm Height x 222cm Width x 90cm Depth
Timber Right Extension (with CORNER) 90cm Height x 222cm Width x 90cm Depth
Timber Corner Piece: 90cm Height x 90cm Width x 90cm Depth
Bench Seat Cushion size:
H14xW125xD70cm
Extend This Set
If you love this garden furniture set but need more seating space, that's no problem at all. This garden furniture set can be added to with extensions, meaning you can create a seating space that is perfect for your needs. As the diagrams below show, the extension can be either side of the corner unit. You can add as many extensions as you would like to your set, creating a truly bespoke seating area.

This set can be further extended with an armchair or half-pouffe. Add another level of relaxation, and an extra seat, with one of these excellent add-ons. Take a look at the "Extend This Set" section underneath the product image to see all of the optional extras that we have on offer for this set.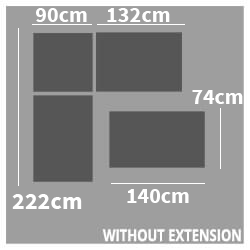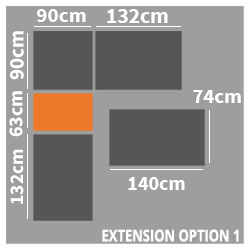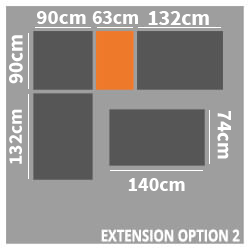 More Information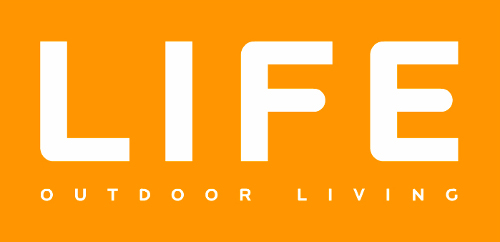 LIFE is a luxury outdoor furniture range which includes sets that are perfect for dining, relaxing and entertaining.
From wonderful woven AYA and Maui sets, to sleek, contemporary cast aluminium collections such as Delta and Timber, LIFE brings together ingeniously designed, skilfully crafted furniture sets that will look fantastic in any garden.
LIFE garden furniture sets also feature unique, scientifically-tested all-weather cushions which can be left in place throughout the season.