Heritage Oak 4ft Garden Bench - 2 Seater
Product Code : OAK010N Barcode : 5055125899058
Black Tag Event Now On!
This 2 seater garden bench is made from high quality solid oak. FSC certified, over time the oak will weather to a silver grey colour and will harden. Each piece is unique with it's grain patterns and small knots.

This bench is also suitable for commercial use in parks, leisure and hospitality industries due to its sturdy design.
Delivery Options
- Available at Checkout
Estimated delivery
Free Delivery
2-7 Working Days
£5
Delivery Thursday, 27 January
Order before 13:00 today!
£5
Specified Delivery Date
Special Offers
Cover
Premier Bench Cover (2 seater) - P045

£49.99

OUT OF STOCK

Garden Bench Cover (2 Seater Bench) - Garland Silver W1488

£28.50

£27.65

OUT OF STOCK
Product Description
This 2 seater garden bench is made from high quality solid oak that is FSC certified. Over time the oak will weather to a silver grey colour and will harden. Pre-treated with a PU coating, each piece is unique with it's grain patterns and small knots.

Dimensions 63.5(D) x 120(W) x 90(H) cm

The heritage oak bench is available as a 2,3 or 4 seater bench and then range also include a matching companion / love seat.

This bench is also suitable for commercial use in parks, leisure and hospitality industries due to its sturdy design.

Assembly
This heritage oak bench is delivered boxed and in 5 easily assembled main parts. The back comes as one complete section, along with two pre assembled arms, a complete seat section and a front support bar.

Assembly should take between 20mins to 30mins and requires no power tools.

Once assembled the bench is extremely sturdy due to the mortice and tenon joint design. The screw heads on the arms can be hidden with the supplied wooden plugs once assembled.

Weight: 20kg


Dimensions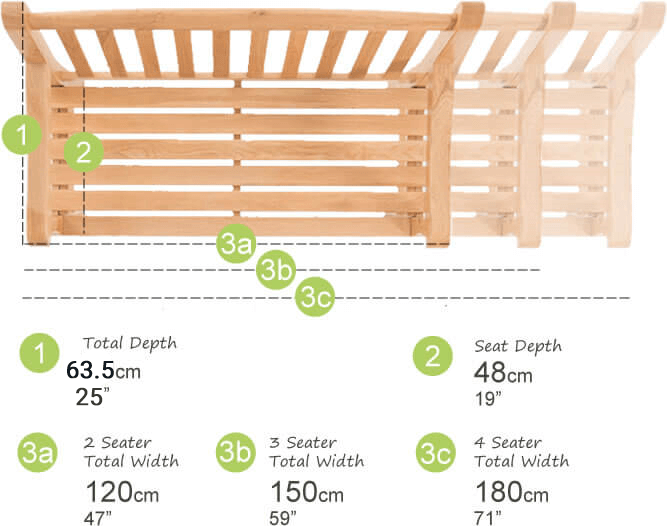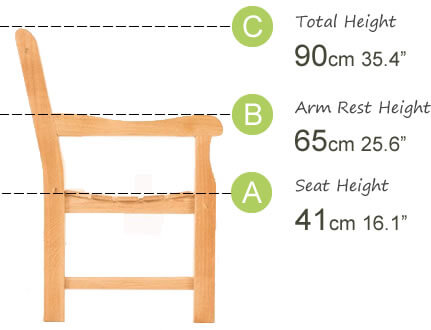 Questions and answers
(4 questions & 4 answers)
Product Reviews
Heritage Oak 4ft Garden Bench - 2 Seater
Overall rating 98.3% from 60 reviews