Muck Boot - Arctic Weekend - Black - UK 4 / EURO 37
Product Code : 6705045/05143 Barcode : 664911005143
Black Tag Event, Now On!
Casual All Purpose Winter Boot
Brief Description
Go from sledding with the kids to lunch with friends with the New Arctic Weekend from Muck Boot. These boots are a part of the Arctic range, and are similar to the Arctic Adventure boots, but are shorter in height which allows them to be slipped on and off easily. They will keep your feet comfy and warm in temperatures as low as -29ºC. However, the flexible neoprene fabric allows the wearer to roll the wellington boot down when the extra warmth isn't needed.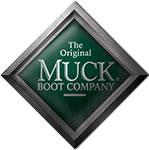 Delivery Options
- Available at Checkout
Free Delivery
2-3 Working Days
Product Description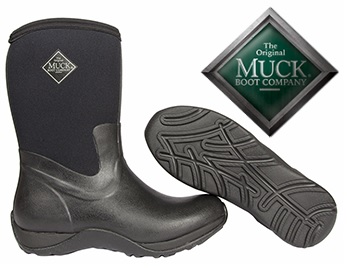 5mm CR-Foam insulation lining for added warmth
Double reinforcements on the instep, heel, toe and Achilles areas
Durable reinforced sole for maximum protection and stability
Stretch-fit boot top hugs the leg to keep heat in
2mm thermal foam underlay added to instep area for additional warmth

Care instructions can be viewed here


Extreme Weather Boot
The Arctic Weekend is a similar boot to the Arctic Adventure variety. The top of the range waterproof boot from Muck Boot is equally good at keeping your feet warm, but are shorter in height which allows them to be slipped on and off easily. Each boot has been designed and produced especially to handle temperatures below freezing point, while still maintaining its own quality and keeping you warm at the same time. Each boot has been carefully designed to optimise to levels of warmth inside, whilst also keeping
the air out. If you're working in the cold, this is the boot for you.
Boot Benefits
The dual-density, oil resistant, rubber sole provides excellent insulation and shock absorption for supreme comfort. This boot has an extra warm thermal foam underlay and the entire body has a 5mm thick neoprene lining which makes them comfortable, without compromising the water tightness or warmth. All in all, this amazing product has been tested to keep your feet warm in temperatures ranging from +16ºC to -29ºC. You'd struggle get cold feet if you tried!
Warranty Information
Customers who have purchased Muck Boots that fall under the Manufacturer's warranty should send the items back to Garden4Less via the return address provided.

Warranty Outline
The Original Muck Boot Company®, a Honeywell Company, warrants to the original end customer, that its footwear will be free from defects in materials and workmanship for a period of one year from the date of purchase by the original end customer. For warranty questions, please contact the MuckBoot Customer Care team on 02034 811333.

Exclusions
This Limited Warranty does not cover any damage arising from normal wear and tear, failure to adequately maintain and store the footwear, unauthorized alterations, repairs or modifications not performed by The Original Muck Boot Company®, footwear used other than in the manner intended, improper or inadequate fit, use of a safety boot after such boot has sustained damage rendering unsafe for use in the environment for which it was designed, damage caused by chemical or foreign substances. The Original Muck Boot Company does not warrant any of its footwear provides protection from bites from wildlife and is not liable for personal injury resulting from such bites.
Product Reviews
Muck Boot - Arctic Weekend - Black
Overall rating 100% from 19 reviews