Bosch 2500W Quiet Shredder AXT 25TC
Product Code : AXT-25-TC Barcode : 3165140465373
Black Tag Event Now On!
Turn the gruelling task of shredding wood into an easy feat with the Bosch AXT 25 TC. This revolutionary machine uses a unique turbine-cut system with eight powerful rotating blades to shred even the thickest branches with minimal chance of blocking.

It has an automatic feed that will easily shred wood up to 45mm in diameter, and you can leave your ear protectors in the shed as the AXT 25 TC is one of the most quiet shredders available.

2 year Bosch warranty included.

Delivery Options
- Available at Checkout
Estimated delivery
Free Delivery
2-7 Working Days
£5
Delivery Wednesday, 19 January
Order before 13:00 today!
£5
Specified Delivery Date
Special Offers
Handy Tidy Up Extras
Wolf Garten Bypass Secateurs - RR500

£39.99

£26.96

DISCONTINUED

Town & Country Large Pop Up Garden Tidy Bag

£17.99

£10.99

OUT OF STOCK

Town & Country Mens Gloves Triple Value Pack

£9.97

£3.99

OUT OF STOCK

Bosmere Garden Bag - G133

£8.99

OUT OF STOCK
Product Description
45mm Cutting Diameter
2500 Watt Motor
230 kg/h Material Throughput
Innovative Turbine cutting System
Patented Detachable Hopper
Touch pad controls with Pulse reverse
This high-powered shredder turns 2500 watts into an immense amount of torque that produces a material throughput rate of up to 230kg/h. Its automatic feeding system will have no problem turning a huge stack of branches into a neat pile of chipped bark in no time.

Effective at cutting branches, thick and thin, wet or dry, the quiet mechanism is great at pulling in spiny and awkward twigs that are known to cause blockages in conventional shredders.

In many cases, competitor brands will require the user to separate twigs from greenery, but not the AXT 25 TC. All you have to do is place the branches inside the hopper and let this amazing machine do all the hard work for you.


Patented Turbine-Cut Blades
Where many shredders use one single 'disk blade' to cut through wood, the AXT 25TC boasts a barrel of eight blades. This means that the blades can hack through the bark and leaves much easier, meaning your job is done faster.
Combined with a 45mm hopper opening, the blades are prefect for both larger logs and smaller twigs and branches. The unique design also ensures that the shredder will rarely stall when in use.
The drum of blades can easily be accessed by removing the hopper, allowing simple and safe cleaning.
Pulse Reverse System
In the rare and unlikely event that your AXT 25TC does stall, Bosch has that covered too. The blades can be placed into a reverse mode, which allows any jams or clogged branches to come free with the push of a button.
Large Collection Bin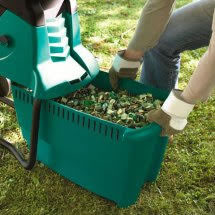 Once finished, the chips fall into a sizable 53 litre collection bin underneath the shredder allowing for easy disposal.
Alternatively, many gardening enthusiasts have used the remaining bark as 'mulch' which can be added to soil to improve its productivity and reduce weed growth.

The collection bin also has a secondary use, acting as a safety function which only allowing the turbine to shred when it is safely inserted. This means that while you are away from the shredder disposing of chippings, the device is harmless to children or pets that may be nearby.
Quiet Design
Designed with you (and your neighbours!) in mind, the AXT 25TC is one of the most quiet shredders available today. Noise levels measure up to 82db - quieter than an average kitchen blender!
Compact Storage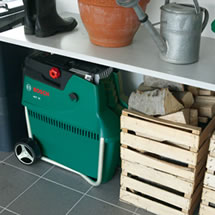 The shredder has been designed with the customer's needs put first. Many shredders are big and bulky, which can make them awkward to store when they aren't being used.
With the AXT 25TC, not only is the feeding hopper removable for cleaning purposes, but it also fits perfectly inside the collection bin when the tool is not in use. This allows the AXT 25TC to be stored compactly, measuring a mere 67cm tall when packed away, perfectly fitting under a work surface or in your garage or shed.
When ready to be used again, the hopper simply clips back onto the top again and it is ready for action.
Instruction Manual
Lost your manual? Download a free digital copy
here.
Similar Products
Click to read an expert comparison between the
Bosch AXT 25 TC and the AXT 25D.
The Bosch Brand
Ever since being founded in the 1800s, Bosch has been a leader in the tools trade with its innovative product designs. Every step made by the market giant has been one in the right direction, with each new design being better than the last. Two generations on, the resulting tools, whether they are lawnmowers or hedge-trimmers, are at the pinnacle of the trade industry and readily available to everybody with a job to be done.
Known for placing the customer at the forefront of every design, Bosch produces tools that are durable, affordable and easy to use and maintain. With a Bosch tool, gardening is no longer a chore, it becomes a hobby, and with the wealth of available products at your fingertips, there is nothing that is unachievable.
Ask a garden4less expert about which tool is best suited to your needs today.
Warranty Information
The Bosch Warranty Period
Bosch now provide an Extended 3 Year Warranty on their garden tools, when registered at www.MyBosh-Tools.com within 28 days of purchase. Any unregeistered garden tool keeps its limited 2 year warranty.

Both warranty periods only apply to tools that are being used for domestic purposes and excludes batteries and chargers, which come with a 12 month warranty. During the warranty period the collection and return of your tool will be free of charge.
How To Claim
Bosch require proof of purchase for the product in order to make a warranty claim, the original invoice sent out with the goods will be sufficient for this. If this has been misplaced then we will happily provide a copy via email.

In order to make a claim under this guarantee you are required to either:
Use the repair collection service tool provided by submitting an online colleaction request on Bosch's Repair Service Page.

or

Submit in writing to bosch.servicecentre@uk.bosch.com the defect with the product, together with proof of purchase.

or

Phone the Bosch after sales service on 03447 360109 who will be happy to arrange and explain the warranty claim process.
Bosch's 5 Day Service Commitment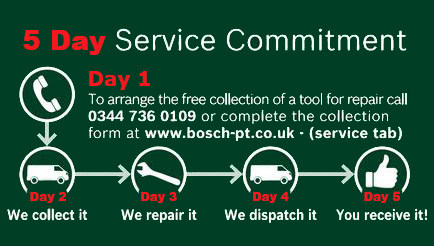 Bosch know how much of an inconvenience it is if your machine breaks down, so they commit to getting your machine back to you in 5 days.

Day 1: Collection gets arranged
Day 2: Picked up from you
Day 3: The unit is repaired
Day 4: Dispatched back to you
Day 5: You receive it back!

Full Warranty Details
The most up to date warranty information and full conditions can be found on Bosch's garden tools warranty page.
We're always happy to help
Don't forget that garden4less are always here to help, so please contact us if you have any difficulties with the warranty process with one of our orders.
Product Reviews
Bosch 2500W Quiet Shredder AXT 25TC
Overall rating 95.8% from 105 reviews